You are here
Main events calendar
Past Events

30 August 2021 - 30 August 2021
Online Event
An inevitable consequence of the demographic transition and the shift to lower fertility and mortality has been the evolution in the age structure of the world population. Charles University is organizing an online course on Popluation Ageing for policymakers and experts on demography participating in evaluation of and reporting on the MIPAA implementation.
Details

9 July 2021 - 9 July 2021
Facebook LIVE (@unfpa.eecaro)
How has the COVID-19 pandemic affected birth rates and what are the implications for Europe's demographic future? 
Join us on Facebook Live for this "What's Next?" conversation with an exciting panel of practitioners, experts and journalists on Friday 9 July at 11:00 CEST.  
UNFPA and Population Europe are hosting this event ahead of World Population Day to discuss the impact of COVID-19 on demographic trends and draw attention to the need for comprehensive and holistic solutions to demographic change.   
Details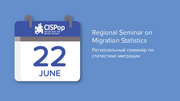 22 June 2021 - 22 June 2021
Online Event
On June, 22, 2021 the Federal State Statistics Service together with the United Nations Population Fund and the International Center for Statistical Expertise 'Centrostat' conducts the online Regional Seminar on Migration Statistics for CIS countries.
The agenda covers such issues as measuring migration through population censuses 2020, revision of methodology of data collection and analyses, statistics harmonization and dissemination, review of international migration data bases, and statistics on labor migration and remittances.
Details
Pages