Ensuring rights and choices for all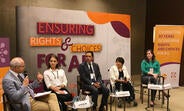 4 November 2019
What's changed for women and young people with disabilities?
ISTANBUL, Turkey — When Lyazzat Kaltayeva became disabled at the age of seven, she thought her world had narrowed forever. "I couldn't even imagine that I would have the possibility to go out freely into the street, to work anywhere but inside the house. I dreamed about being in love, but thought that was just a fantasy," said

UNFPA held a global consultation in June 2019 in Antalya, Turkey, to accelerate efforts...

Ten key trends related to implementing the ICPD Programme of Action as its 25th...