Ensuring rights and choices for all
15 July 2019
Want to increase birth rates? Try gender equality
On today's World Population Day it is important to emphasize that it is not population size that matters in contemporary societies. What matters is the human capital of a population – its education and health,...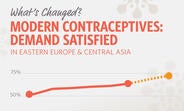 11 July 2019
Population and health trends in Eastern Europe and Central Asia
ISTANBUL, Turkey — Do people in Eastern Europe and Central Asia enjoy more rights and freedoms than they did 25 years ago? On what issues has progress been steadiest, and which have been most resistant to change? The 25th anniversary of the International Conference on Population and Development (ICPD) is an opportunity to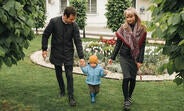 10 July 2019
Helping couples realize their reproductive aspirations in Moldova
ORHEI, Moldova — "We would like to have two kids, but only after we are financially ready," says Elena Tira, age 27. She and her husband, Mircea, are already raising a daughter who is almost two years old. Before conceiving a second child, Elena wants to develop her business offering prenatal classes for future parents, which

UNFPA held a global consultation in June 2019 in Antalya, Turkey, to accelerate efforts...

Ten key trends related to implementing the ICPD Programme of Action as its 25th...