You are here
Strategic Partnerships
Strategic Partnerships
Successful sustainable development requires dynamic and inclusive strategic partnerships with a variety of stakeholders.
UNFPA's Regional Office for Eastern Europe and Central Asia works to develop partnerships that create shared opportunities and support universal access to sexual and reproductive health and rights, reduce maternal death and improve the lives of adolescents and youth.
We partner with stakeholders from the private sector, foundations, parliamentarians, civil society, academia and scientific institutions. We also partner with individuals and multi-stakeholder initiatives.
Some of our most exciting new partnerships are with the private sector. Businesses have helped UNFPA to reach more people, improve programmes through increased expertise and brainpower, or provide additional resources.
Across the region, we invite all partners to work with us to improve lives and create demographically resilient societies.
UNFPA Private Sector Spotlight
Moldcell Foundation • Business Against Domestic Violence • Oxana Samoylova
---
Moldcell Foundation - Technology that brings old and young together
A volunteer from Cazangic teaches an older person how to use a mobile phone. Credit: Eduard Mihalas/UNFPA Moldova.



UNFPA Moldova and Moldcell Foundation launched a partnership to improve the digital inclusion of older people through intergenerational dialogue.
Since then, three hundred of the most vulnerable older people in fifteen different locations throughout Moldova were each given a mobile phone connected to the Internet and pre-paid subscription for 12 months. Seventy-five young people then trained them how to use the phones to communicate with their loved ones, overcome social isolation and find information about health care and social services. The social connection this partnership enabled during the COVID-19 pandemic proved vital for older people—this will continue to be important in the future.
The mission of Moldcell Foundation is to positively influence the lives of Moldovan people by combining digital transformation and the use of technologies on the basis of the key areas of its digital responsibility: education, society, social impact investments and support for the UN Sustainable Development Goals.
---
Business Against Domestic Violence (BADV)
UNFPA Ukraine works with international, national and business partners to build a society free of gender stereotypes and violence.



In response to research that revealed at least 75% of white-collar female workers in Turkey had been subject to at least one instance of violence—UNFPA Turkey partnered with Sabanci University to establish the Business Against Domestic Violence (BADV) initiative.
The BADV initiative supports businesses in their responsibility to protect and empower women and ensure secure employment. This is critical to putting an end to violence. The initiative now engages over 70 companies and benefits more than 180,000 employees by developing a business culture that does not tolerate violence against women. The initiative set up a hotline and provides financial, legal and psychosocial support for survivors and their children.
UNFPA also created the first business coalition in Ukraine - following a similar model to Turkey. UNFPA provides technical expertise on gender equality and gender-based violence, while partners from the Center for Corporate Social Responsibility Development bring the initiative to as many businesses as possible. So far, 33 companies have joined the coalition.
---
Building entrepreneur and employment skills for vulnerable groups with Oxana Samoylova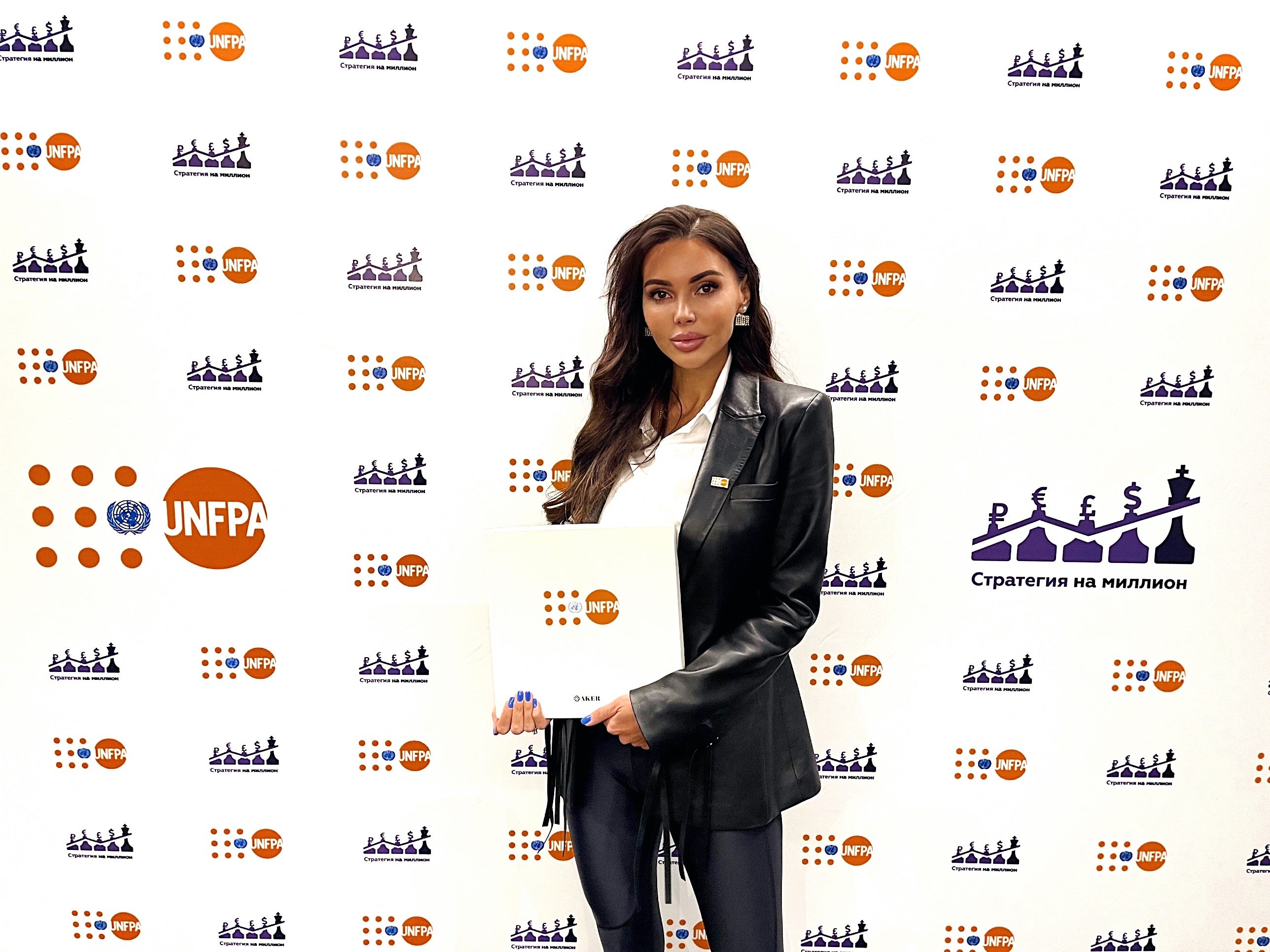 Photo courtesy of Oxana Samoylova.



In September 2021, UNFPA and the Russian entrepreneur Oxana Samoylova entered into a partnership to organise educational programs for vulnerable population groups in Eastern Europe and Central Asia. The partnership is linked to the online education course "Strategy for a million" developed by Oxana Samoylova that aims to empower women to build confidence and gain employment skills.
People with disabilities and vulnerable women often face significant challenges and lack the required skills to find employment. These challenges were further exacerbated by the COVID-19 pandemic, making it more difficult for vulnerable population groups to stay in, or enter, the labour market.
The collaboration between UNFPA and Oxana Samoylova attempts to respond to these challenges by using the power of digital technology to teach new skills, build confidence and help empower people with disabilities and vulnerable women find employment and take a step closer to independence. The educational programmes organised through the partnership will be implemented in 2022.
Oxana Samoylova is a mother of four children, a blogger and entrepreneur who has developed several successful business ventures in the areas of beauty, fashion and consulting services in the Russian Federation.
---
If you would like to learn more about our partnerships, please contact Dr. Louise Dann, Resource Mobilization and Partnerships Adviser at dann@unfpa.org, or check out our partnerships brochure in English or Russian.