You are here
Main events calendar
Past Events

11 July 2020 - 11 July 2020
Global
Peace in the home: safeguarding the health and rights of women and girls – even during COVID-19 
Statement by UNFPA Executive Director Dr. Natalia Kanem on World Population Day, 11 July 2020
Details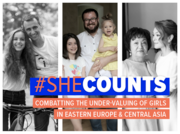 30 June 2020 - 30 June 2020
Facebook LIVE: UNFPA Eastern Europe & Central Asia
Update: This event has ended. View the recording here.
------
Details
17 May 2020 - 17 May 2020
Global
Break the silence!
Statement by UNFPA Executive Director Dr. Natalia Kanem on the International Day Against Homophobia, Transphobia and Biphobia
"All human beings are born free and equal in dignity and rights." Article 1 of the Universal Declaration of Human Rights speaks to the universality of human rights. Everyone, everywhere, is entitled to them, without distinction or discrimination of any kind.
Details
Pages