You are here
Strategic Partnerships
Strategic Partnerships
Successful sustainable development requires dynamic and inclusive strategic partnerships with a variety of stakeholders.
UNFPA's Regional Office for Eastern Europe and Central Asia works to develop partnerships that create shared opportunities and support universal access to sexual and reproductive health and rights, reduce maternal death and improve the lives of adolescents and youth.
We partner with stakeholders from the private sector, foundations, parliamentarians, civil society, academia and scientific institutions. We also partner with individuals and multi-stakeholder initiatives.
Some of our most exciting new partnerships are with the private sector. Businesses have helped UNFPA to reach more people, improve programmes through increased expertise and brainpower, or provide additional resources.
Across the region, we invite all partners to work with us to improve lives and create demographically resilient societies.
UNFPA Private Sector Spotlight
L'Oreal • Bayer • Sports Partnerships
---
L'Oreal combats harassment and strengthens employment skills of domestic violence survivors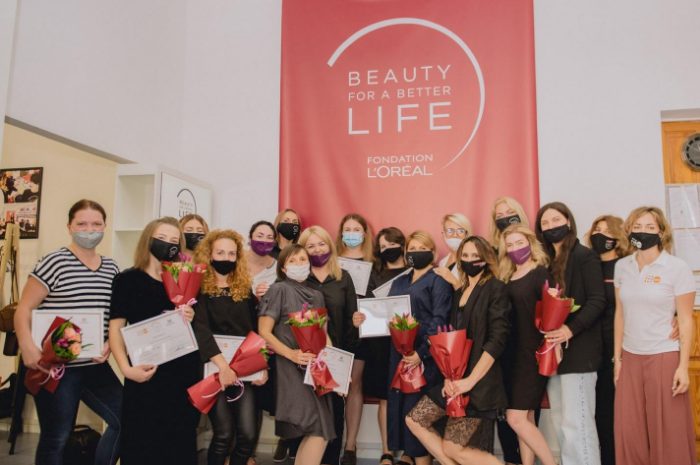 Since 2018, UNFPA Ukraine has partnered with L'Oreal, the global beauty brand, on two projects to empower women to combat harassment and learn employment skills in the beauty industry.
The 'Beauty for Everyone' and 'Beauty for a Better Life' training programmes help women who have experienced gender-based violence train to become certified hairdressers, gain financial independence and break the cycle of violence. Since the project started, 164 women have received training for jobs in the beauty industry. On 10 February 2022, the sixth iteration of the 'Beauty for a Better Life' training project will begin in Kyiv and Lviv.
In March 2021, UNFPA Ukraine and L'Oréal launched the 'Stand Up' programme in Ukraine. This is a global educational initiative to prevent harassment. The goal is to train one million people worldwide in how to deal with harassment in public places: in schools, on public transport, at festivals and on the Internet. In Ukraine, the main aim is to teach 10,000 people to resist harassment if they experience it or witness it.
---
Bayer helps promote better health for all ages
Nigina Abaszada, UNFPA Moldova Resident Representative and Elena Armașu, Executive Director Bayer Moldova, signing a cooperation agreement for 2021-2022. Photo courtesy of UNFPA Moldova/Irina Lipcanu, 2021.



UNFPA formed a partnership with the pharmaceutical company Bayer in Moldova in 2021 to promote sexual and reproductive health and rights and help the country make further progress towards social development.
Bayer supports UNFPA with the "Plan Your Life" and "Digital Skills Connect Generations" projects. These projects enable people of all ages to access information aimed at improving the health of the population.
The partnership promotes the right to family planning and modern methods of contraception. It helps promote healthy ageing, mental health and well-being and produces inclusive information materials tailored to the needs of different population groups.
Bayer supports the production of video materials about modern contraceptive methods with sign language to make the content accessible for hearing impaired people. In addition, Bayer will support a digital community for older people by providing them with health information, including psychological support.
Bayer is a leader in modern contraception and integrated solutions for agriculture. Bayer is a strategic, global partner of UNFPA and follows the vision of "Health for all, Hunger for none".
---
Georgian footballers promote gender equality and equal opportunities in sport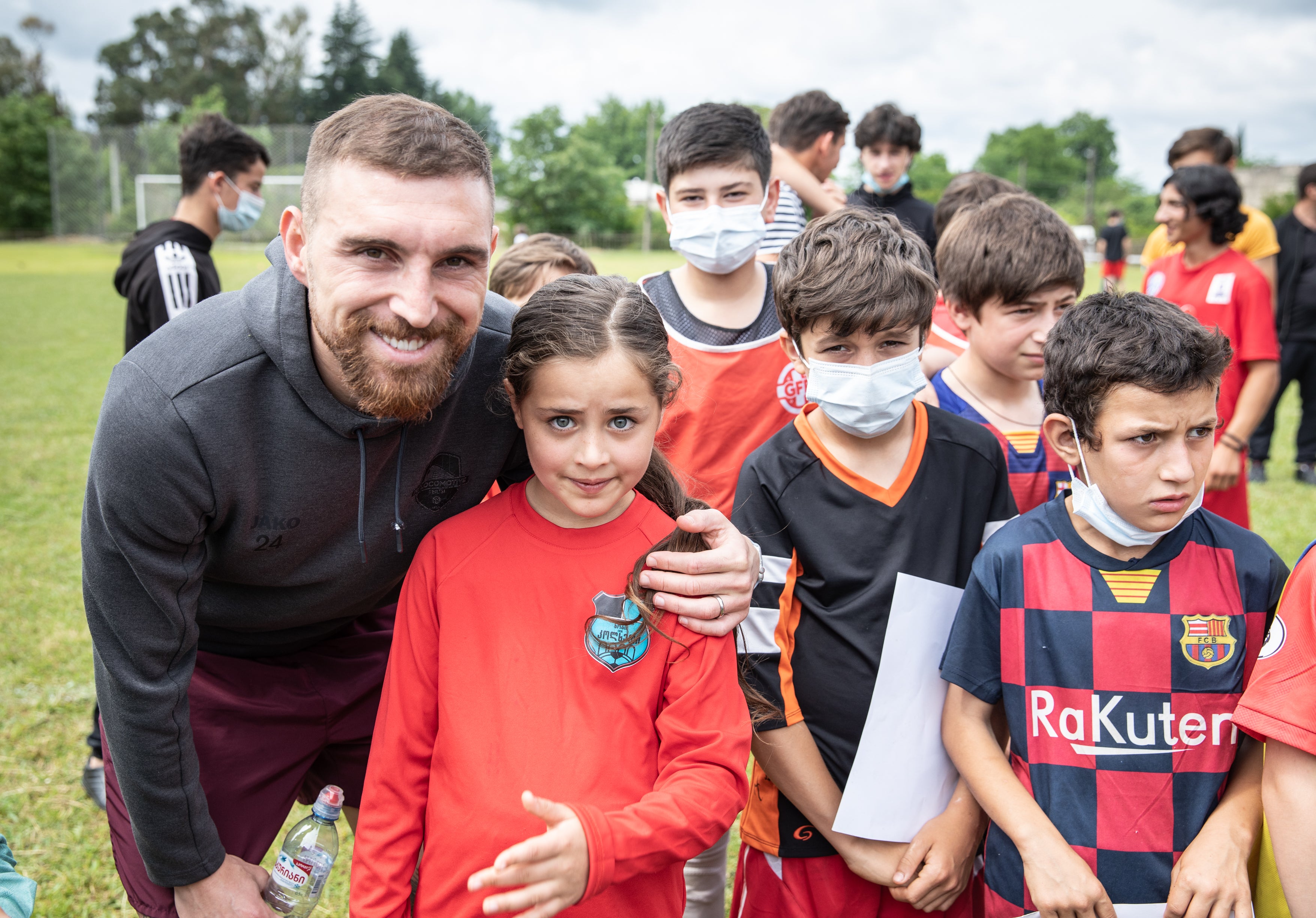 Georgian football player Guram Kashia meeting children and adolescents in Kheta village, in the Samegrelo region of Georgia. Photo courtesy of Irakli Dzneladze/UNFPA.



UNFPA, the Georgian Football Federation and FC Locomotive Tbilisi work together to promote gender equality and equal opportunities in sport.
Since 2018, football players have taken part in UNFPA activities aimed at strengthening gender equality, promoting healthier lifestyles, and increasing men's participation in the MenCare Global Fatherhood campaign. The partnership also helps girls get involved in football to promote gender equality and equal opportunities in sports for young girls and boys. In addition, UNFPA trains coaches, referees and players to increase gender sensitivity and awareness.
In 2021, Guram Kashia, a well-known Georgian football player, met with adolescents in the village of Kheta in Samegrelo to talk about important issues such as equality, tolerance and non-violent relationships.
---
UNFPA and FC Shakhtar combat stereotypes in Ukraine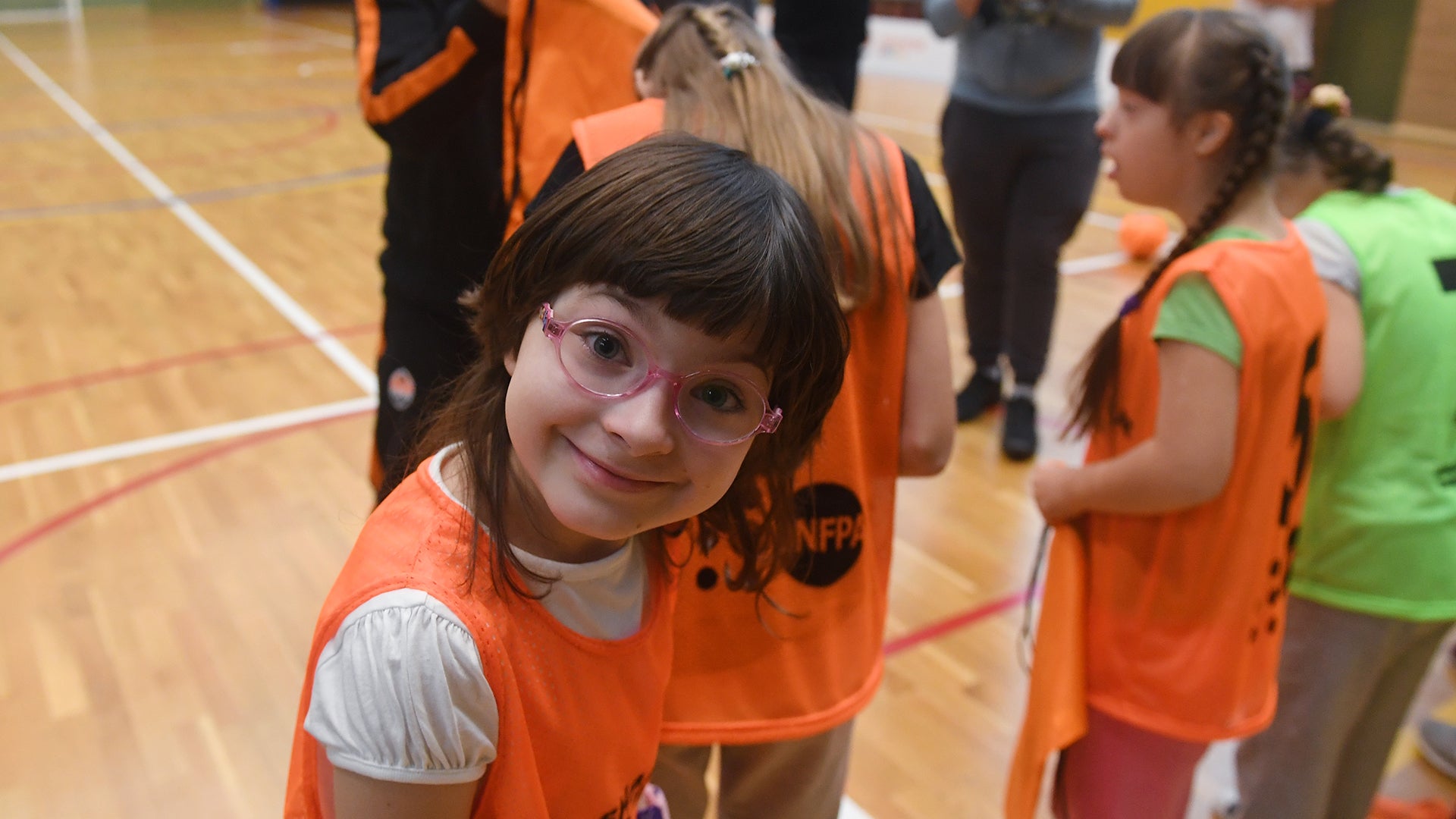 Girls with intellectual disabilities train with FC Shakhtar in Kyiv, 2019. Photo courtesy of Shakhtar Social Foundation.



Since 2018, UNFPA Ukraine and FC Shakhtar, a leading Ukrainian football club, have partnered to promote responsible fatherhood and combat gender stereotypes, particularly in sports.
Players took part in a campaign to promote responsible fatherhood and share domestic responsibilities within families. They also helped recruit more girls into football teams as part of the "Come on, Let's Play!" initiative. Today, more than 430 girls aged 7-12 years learn to play football. In 2018, FC Shakhtar became the first professional football club in Ukraine to start a football team for girls.
Team coaches also promote zero-tolerance to violence by coaching boys in the "Come on, Let's Play!" initiative. The "Coaching Boys into Men" project aims to prevent violence and discrimination in sports and teaches young athletes to respect themselves and others, particularly women and girls.
In November 2019, FC Shakhtar joined UNFPA Ukraine and Special Olympics Ukraine to launch four football teams for girls with intellectual disabilities in four different cities. In August 2021, UNFPA Ukraine included girls participating in the "Come on, Let's Play" project in a new life-skills development programme in Kyiv.
---
If you would like to learn more about our partnerships, please contact Dr. Louise Dann, Resource Mobilization and Partnerships Adviser at dann@unfpa.org, or check out our partnerships brochure in English or Russian.