ISTANBUL, Turkey — When a humanitarian crisis erupts, women are often the first to respond, and the last to leave. They serve some of the world's most vulnerable populations and work on the front lines of conflict, putting their own lives in danger. On World Humanitarian Day 2019, UNFPA honours the work of women assisting in crises around the world, including two women playing crucial roles at refugee centres in Eastern Europe and Central Asia.
When the refugee crisis hit Belgrade in 2015, Irena Abdelalem Abdelmaksoud immediately knew she wanted to help in any way she could. As a child of refugees herself — her parents came to Serbia from Croatia in 1995 — she understood how difficult being in that situation can be. At the time, Irena was studying Arabic at a university, and she started volunteering in translation and logistical support for Info Park NGO, a UNFPA partner organization, which eventually turned into her current job as a protection officer for refugees, migrants and asylum-seekers.
Info Park provides tailored services for individuals based on their needs. This can include help registering as a refugee and finding accommodations; information about rights, safety and child protection; and referrals to legal, medical and psychosocial support.
On Sundays, Info Park hosts a special "Boys Day" that starts with breakfast and a quick check-in. This is followed by educational sessions where boys served by the centre learn about things like health, self-care, stress management, communication, healthy and unhealthy relationships, sexuality, gender-based violence and gender equality. Irena says the sessions allow the boys time to think about these different subjects, to process them and to discuss them openly. "It's great for building a relationship of trust and respect," she says. The boys then enjoy recreational activities, often joined by their local peers, and wrap the day up with a meal together.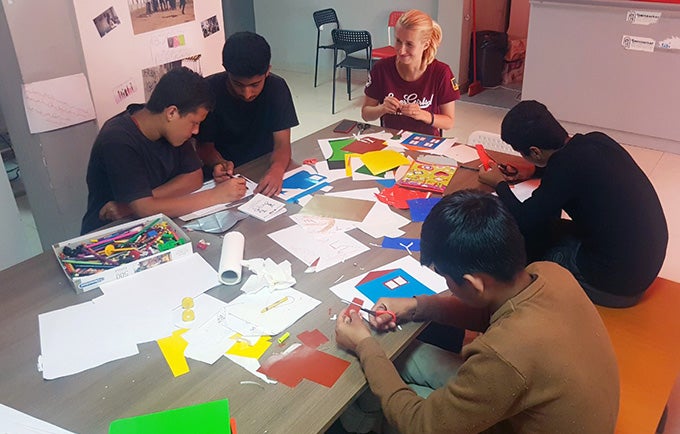 Irena works at a Boys Day session at Info Park NGO. Photo: UNFPA Serbia
"Working directly with the refugees has been a humbling experience and great education," Irena says. "I have also been lucky enough to be able to attend a lot of trainings, seminars and conferences."
But although Irena says she has gained a lot from her work in the humanitarian sector, she also faces some serious challenges. The long, demanding hours leave her exhausted at the end of the day, and with little free time. And like women in other professions, those doing relief work still experience discrimination. Irena believes that humanitarian organizations should provide better working conditions for women and ensure that their labour rights are fully met.
Still, Irena says, "I am very passionate about empowering young people; that is the part of my work of which I'm most proud." Seeing young people build healthy relationships, slowly overcome the trauma they've experienced and solve conflicts in a positive matter takes hard work, but in the end, she says, it is worth it.
* * * * *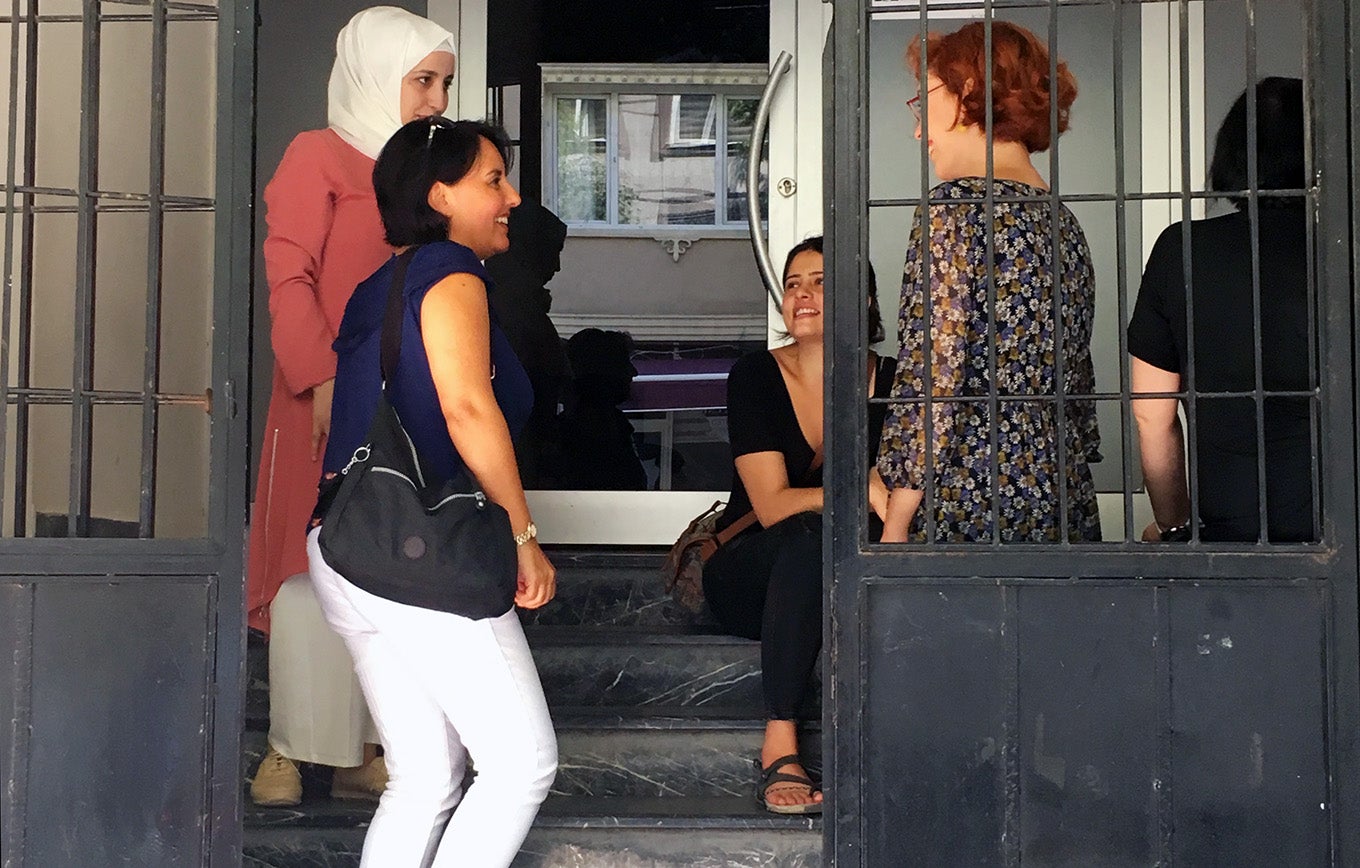 Altuna Söylemezoğlu (front left) works as an Istanbul Field Associate for UNFPA Women and Girls Safe Spaces in Istanbul, Turkey. Photo: UNFPA EECARO
An architect by profession, Altuna Söylemezoğlu became introduced to the humanitarian field after a devastating 7.6-magnitude earthquake hit northwest Turkey in 1999, killing more than 17,000 people. Altuna was helping reconstruct quake-damaged buildings in the town of Hereke when she met with relief workers from the International Red Cross and Red Crescent Societies, an encounter that led her on the path to her current career.
Since that time, Altuna has worked in various countries on post-natural-disaster infrastructure support, but she says she discovered her passion really lay in field work with communities and individuals. "Working at all levels of humanitarian crises brought me to where I am today," she says. "I am lucky to be a part of the UNFPA family during the biggest refugee crisis that has affected millions of lives in my country."
Turkey is hosting more than 3.6 million registered refugees from neighbouring Syria, where violent conflict has been ongoing since early 2011. UNFPA and its partners provide needed services – including Turkish lessons, contraceptive supplies, information about reproductive health issues such as STIs and maternal care, and counselling for those who have experienced trauma – to female refugees at Women and Girls Safe Spaces around the country. As an Istanbul Field Associate, Altuna oversees five of these refugee health centres, waking up early each day to visit the different facilities and liaising with a team of social workers to ensure that people's needs are being met.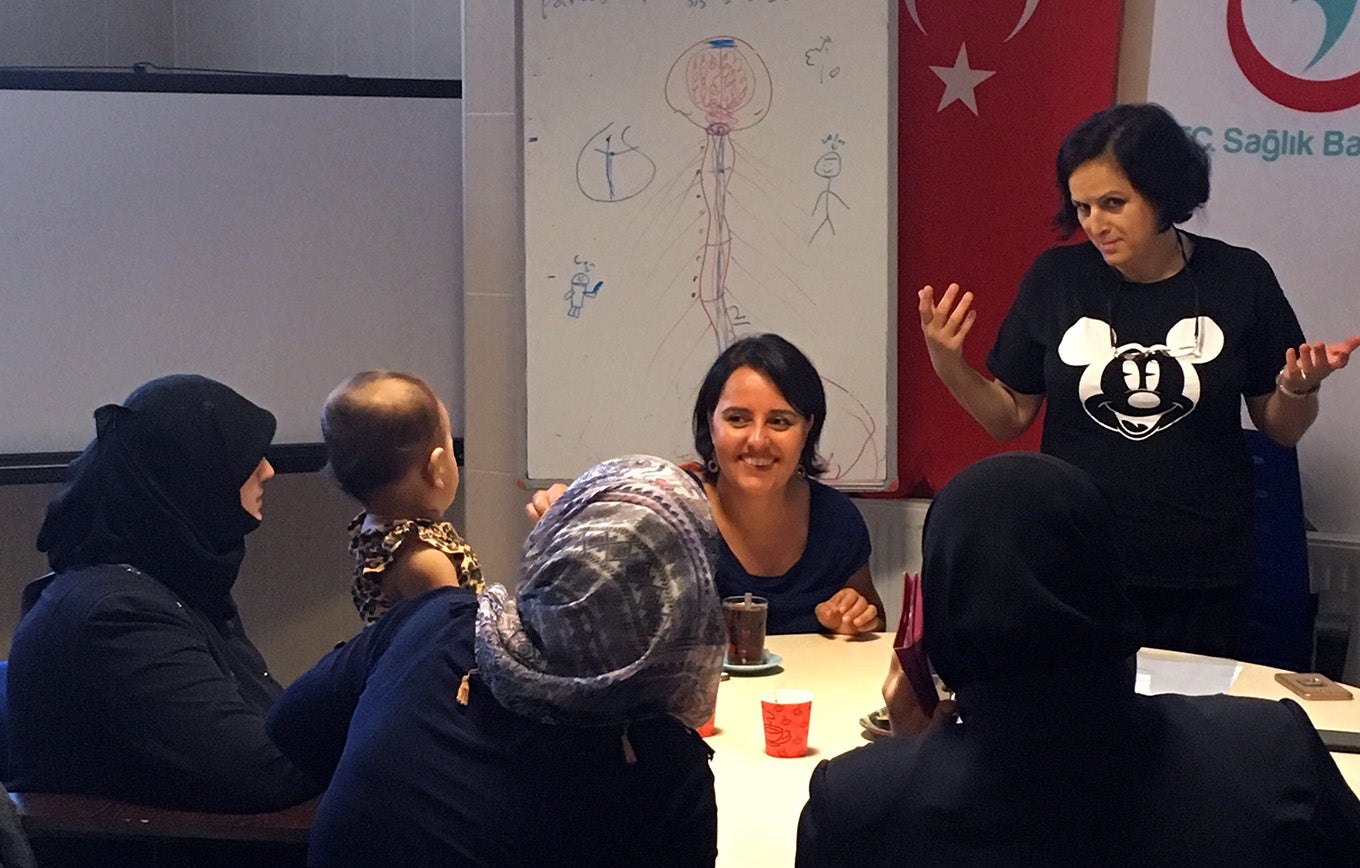 Altuna and another staffer meet with Syrian refugee women at a Women and Girls Safe Space in Istanbul. Photo: UNFPA EECARO
Among the challenges she faces, Altuna says one of them is discrimination. "Anywhere in the world, if you are a darker-skinned woman, you have to try harder to prove you are a professional," she explains. She also says it is hard in her line of work to balance the personal and the professional, adding that "you have to be emotionally very strong."
Regardless of the difficulties, Altuna says she finds her work very rewarding, and has experienced many memorable moments during her time of service. She recalls one discussion about gender-based violence when she noticed someone who was rather quiet amongst the generally vocal women participants. She worked hard to involve this woman in the activities and trainings that were held at the Women and Girls Safe Space, and after building trust, the woman was finally able to seek support from the staff psychologist to address her own trauma. By reaching individuals in this way, Altuna says, she finds hope for positive change.