ISTANBUL – As countries across Eastern Europe and Central Asia struggle with the effects of demographic change, a growing consensus on how best to address these challenges was on display at a virtual event on demographic resilience organized by UNFPA and the Government of Bulgaria on 18 November 2020.
Speakers at the event stressed that the demographic shifts their countries are facing require comprehensive, multidisciplinary responses that need to be rooted in solid evidence and respect for human rights.
"Ensuring that societies can thrive in a world of rapid demographic change means moving beyond narrow quick-fix approaches focused on population numbers, towards comprehensive population and social policies aimed at ensuring prosperity and well-being for all," said UNFPA's Deputy Executive Director Diene Keita.
Low fertility rates and population ageing, common phenomena across the entire European continent, have been compounded by high levels of outmigration in many countries in Central and Eastern Europe. This has led to populations decreasing in numbers, in some cases by 20 to 30 per cent over the last three decades. Many countries are concerned about the effects of these demographic shifts on their economies, social systems and ability to provide services.
UNFPA earlier this year launched a new programme to support countries in the region to strengthen demographic resilience, and many governments are already taking steps to do so.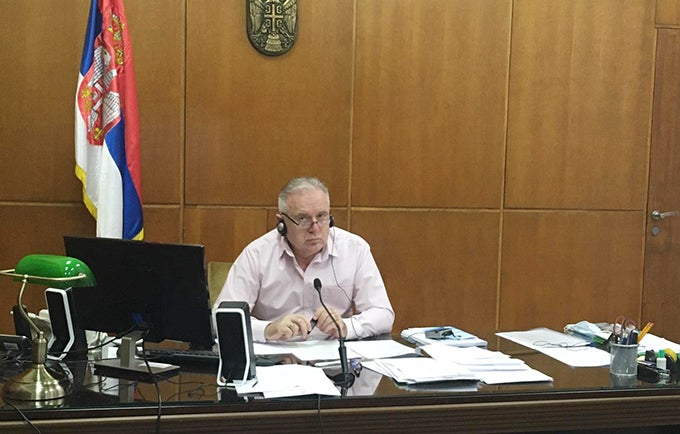 In Serbia, the recent creation of a ministry dedicated to demography is testament to the importance the country's new government is attaching to addressing the effects of demographic change, said Radomir Dmitrovic, the newly appointed Minister of Family Welfare and Demography.
The Minister mentioned among his priorities putting an end to the depopulation of rural areas and providing more support to working mothers. He pointed out that raising fertility levels is a complex matter that needs to be addressed in a multidimensional way.
Moldova, under its new National Development Strategy, is shifting from a demographic security approach towards a "rights-based demographic policy agenda" driven by data and human rights, said Nelea Rusu, State Secretary at the Republic of Moldova's Ministry of Health, Labour and Social Protection.
"We acknowledge that unless we seriously treat the demographic challenges of the country and the region and integrate them across all sectoral policies, we will not be able to fully harness human capital and achieve Agenda 2030," Rusu said. She pointed out that Moldova is currently conducting a Gender and Generations Survey, with UNFPA support, to generate valuable evidence that will underpin its development of population and social policies.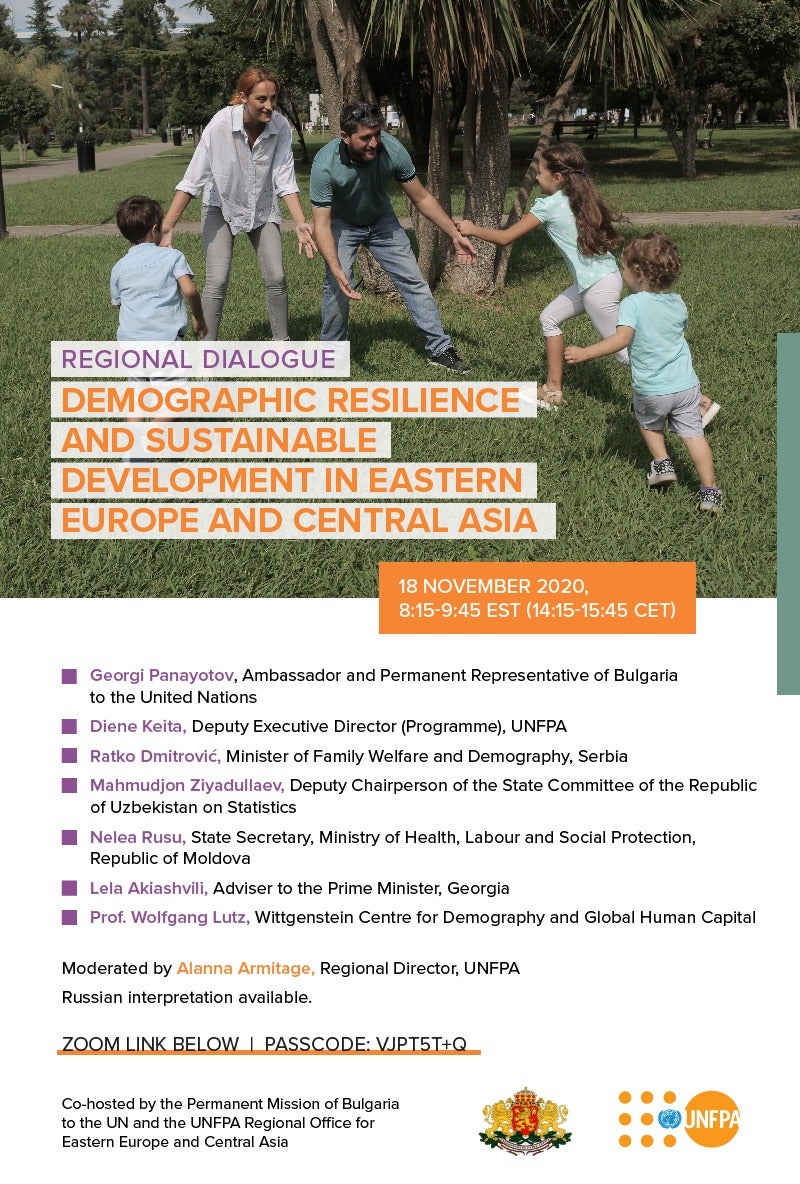 Georgia's approach on older people was presented by Lela Akiashvili, Adviser to the Prime Minister of Georgia on gender and human rights, who highlighted the three priorities included in the country's new human rights strategy. These are: creating an enabling environment for the inclusion of older people in social life and tapping into their potential; protecting older people from violence; and strengthening social protection and health systems to meet the needs of an ageing population.
Uzbekistan is engaged in ongoing efforts to conduct a population and housing census despite the challenges posed by the COVID-19 pandemic, said Mahmudjon Ziyadullaev, Deputy Chair of Uzbekistan's State Committee on Statistics, who stressed the importance of data for formulating evidence-based policies.
Taking a broader perspective, one of the world's leading demographers, Prof. Wolfgang Lutz, suggested viewing population policies and strengthening demographic resilience as a form of "national human resource management." This would mean paying less attention to achieving one specific population size, fertility rate or age structure, but instead focusing more on developing an "integrated policy approach that flexibly and effectively manages public human resources to achieve the highest long-term well-being for individuals and countries," he said.
In a similar vein, Ambassador Georgi Panayotov, Permanent Representative of Bulgaria to the United Nations, emphasized the importance of policies that "set free the vast untapped potential we have in society," especially among women, youth, older people and other disadvantaged groups. He said demographic change also comes with opportunities and with the right policy mix in place, countries can thrive even while their demographics are shifting.
Wrapping up the event, UNFPA Regional Director Alanna Armitage acknowledged that the challenges that come with demographic change are real. But she also emphasized that there is a wealth of experiences, research, programmes and tools that can enable governments to manage the effects of demographic shifts.
"We are seeing that the countries in the region are moving forward with putting the right policy mixes in place to turn challenges into opportunities," Armitage said.