UNITED NATIONS, New York – "I've been a priest for 25 years. During this time, I've met a lot of families ready to terminate their pregnancy just because of expecting a girl," said Giorgi Ugrekhelidze, a religious leader in Georgia. "In most cases, men push their wives to make this decision."
A widespread preference for sons has resulted in severely skewed sex ratios in Georgia. For every 100 girls born in the country, 108 boys are born, according to data by expert Christophe Guilmoto, published in 2015.
Similarly imbalanced sex ratios have been seen in countries throughout Asia and Eastern Europe, the result of gender-biased sex selection, the neglect of girl infants and even female infanticide. As a result, some 117 million women are believed to be "missing" in countries where son preference is prevalent.
Skewed sex ratios lead to the "masculinization" of society. In places like India and China, men are expected to greatly outnumber women for generations, even if sex ratios at birth return to normal.
The long-term consequences of this masculinization could be dangerous, including the possibility of increased sexual violence and human trafficking. Tragically, these social ills perpetuate and reinforce the root cause of son preference: gender inequality.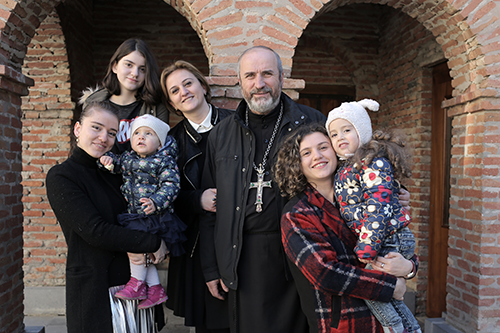 Giorgi Ugrekhelidze has three daughters and two granddaughers. He says public conversation about son preference is helping people change their minds about gender-biased sex selection. © Dina Oganova for UNFPA Georgia
Less valued than boys
Mr. Ugrekhelidze is not only a priest – he is also the father of three girls and the grandfather of two girls. "I'm very happy to have so many daughters," he said.
Still, he acknowledges, many people do not feel the same way.
Girls are valued less than boys in many societies. This discrimination is often reflected in unequal laws and traditions. In some places, for example, only males inherit property, care for ageing parents or carry on the family name. These traditions often create incentives for parents to have sons rather than daughters.
And it appears that skewed sex ratios are changing over time. There is evidence that gender-biased sex selection has recently taken root in countries in Eastern Europe and the Caucasus, for example.
In response to the growing imbalance in sex ratios, some countries are limiting access to reproductive health technologies, such as ultrasounds. But these restrictions are difficult to enforce, and could drive gender-biased sex selection underground.
The longer-lasting solution, experts agree, is improving the status of women and girls.
New programme takes on son preference
But more information is needed to address this situation in affected countries. Policymakers require analyses of population data and insights into the specific motivations for son preference in each community.
And campaigns must be organized to promote and uphold the value of girls.
To this end, UNFPA is launching the Global Programme to Prevent Son Preference and Gender-Biased Sex Selection, the first global effort of its kind.
With funding from the European Union, the programme will work with the governments of Armenia, Azerbaijan, Bangladesh, Georgia, Nepal and Viet Nam to gather information about gender-biased sex selection and to raise up the value of girls and women.
"Son preference is first and foremost about gender discrimination and violations of women's and girls' human rights," said Luis Mora, a UNFPA human rights expert. "With this new global programme, we will support governments and civil society in addressing the root causes of the increasing masculinization of their societies through improved knowledge and the development of polices that seek to increase the value of girls and women."
Irakli Manchkhashvili says he is happy to have a daughter. "I don't know how to explain, but it's a different feeling when you are a father of a girl," he said. © Dina Oganova for UNFPA Georgia
Change is possible
And efforts to improve gender equality are starting to have an effect in some countries, according to local observers.
"I believe the number of these cases has decreased over time," Mr. Ugrekhelidze said. "Luckily, there is much more conversation going on in the public around this issue."
Irakli Manchkhashvili, also in Georgia, loves being the father of a girl. "I try to spend quality time with her, play with her, take her for walks. She has a very warm personality," he explained.
In many ways, he says, it is a dream come true. "I'd always wanted to have a daughter," he said.