ANKARA, Turkey – "I have only one child, but I feel like a mother to dozens of children," says Umut. She is being modest. Over her nearly 30-year career as a midwife in Turkey, Umut – whose name means "hope" in Turkish – has delivered hundreds of babies, helping ensure that the newborns and their mothers stay safe and healthy, sometimes under difficult circumstances.
The COVID-19 pandemic has highlighted the importance of investing in primary health care, including the work of midwives, according to a new State of the World's Midwifery 2021 report launched today by UNFPA to mark International Day of the Midwife. The report, "Follow the Data, Invest in Midwives," details how midwives can provide about 90 per cent of sexual, reproductive, maternal, newborn and adolescent health care.
"We meet the needs of pregnant women, we comfort them and support them," Umut says, emphasizing that midwives already bear responsibility for two lives. "Now we also have a duty to protect those lives from the COVID-19 pandemic," she adds. "Our efforts for mother-child health are even more important now."
Midwives like Umut have been on the frontlines in providing health care during the pandemic, and she says the first months after COVID-19 cases began appearing in Turkey in March 2020 were very difficult.
"It was like a war zone. Nobody knew what was going on," she says, tearfully recalling her co-workers who died of the pandemic. "There were times when I felt very anxious, desperate and helpless. I was worried about myself, my family, my colleagues, the mothers and the newborns."
"Now we are much more organized, we do not have equipment shortages," she adds. But other midwives around the world are still struggling with a lack of personal protective equipment (PPE) and COVID-19 vaccines, according to the State of the World's Midwifery report, which was published by UNFPA, the World Health Organization, the International Confederation of Midwives and other partners. And by deploying midwives to other health services, the pandemic is exacerbating the acute global shortage of about 900,000 midwives.
New challenges and risks for midwives due to COVID-19
COVID-19 has also created new challenges for midwives like Umut, who have to try and ease their pregnant patients' fears and ensure that they continue with their prenatal checks despite the pandemic.
"We had one woman who was nine months pregnant and had delayed all of her doctor's examinations because she did not want to go to the hospital due to the pandemic," Umut recalls. "Sadly, it was too late when we reached her, and she lost her baby."
Midwives' responsibilities are not limited to delivering babies. They also provide antenatal and postnatal care, counselling on family planning, screening and treatment for sexually transmitted infections and other sexual and reproductive health services. During the pandemic, midwives' work promoting health and well-being in their communities in Turkey has extended to contact tracing, delivering medication and emergency case management for COVID-19.
"We visit all the contact persons one by one, test them if needed and provide medication to positive cases within hours," Umut says. "We try to support everyone – children, young people, pregnant women, people with disabilities and the elderly – in every way to help them get through this process in the most comfortable and healthy manner."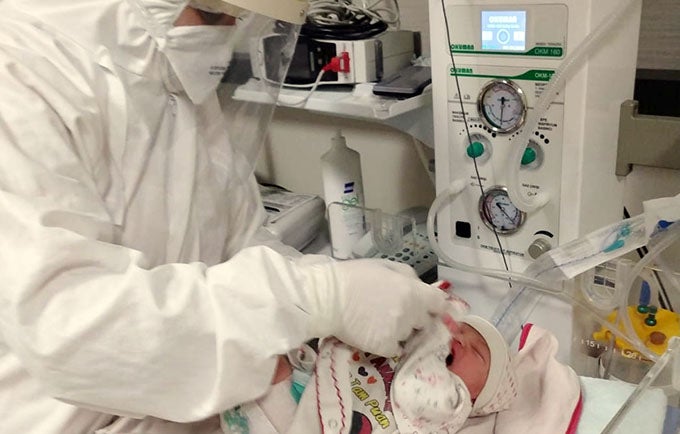 When pregnant women test positive for COVID-19, midwives like Umut help in monitoring their condition, and reminding them about the importance of healthy nutrition, hydration and minimizing contact with others. They also carry out special precautions when it comes time for mothers to give birth.
"If the mother is positive for COVID-19, the baby can also be born positive," she explains. "So COVID-positive pregnant women, mothers and their newborns receive services in maternity and examination rooms that are isolated from the rest of the patients."
Despite the risks to their own health, midwives continue to work with devotion and sacrifice to help bring new lives safely into the world during COVID-19, when they themselves have faced sharply increased workplace and caretaking burdens. They go the extra mile, sometimes literally, to make house calls to hard-to-reach patients and communities as part of mobile clinics or contact-tracing teams.
UNFPA is working to increase support for midwives during COVID-19, including through infection-control training and the provision of personal protective equipment. Globally, the chronic under-investment in midwifery highlights how the needs and skills of women – who comprise 93 per cent of midwives – are often neglected by policymakers and health systems.
The State of the World's Midwifery report highlights the need to improve the working environment for midwives and to include them in policymaking and leadership roles. By boosting investments in education and training of midwives, the report notes, the lives of more than 4.3 million mothers and babies worldwide can be saved annually by 2035.
As a baby born in a village in Turkey, Umut herself was delivered by a midwife, who she says is "still very special to me."
"My goal is to have the same effect on every mother and child I come into contact with," Umut says. "When babies are born, they touch us before they touch their mothers. That first contact is so special. It is an indescribable feeling to witness, and be part of, the birth of a living being."