BUCHAREST, Romania — Giving birth can be risky for women in Kyrgyzstan, which despite progress in improving its health-care system, still has one of the highest maternal mortality rates in Eastern Europe and Central Asia. The risk of a woman dying due to delivery-related complications is as high as one death in 480 deliveries.
"There are also many cases of life-threatening pregnancy complications — unplanned events that did not result in mortality, but had the potential to do so," says Nurgul Smankulova of UNFPA Kyrgyzstan.
"Many opportunities to prevent these cases have been lost," adds Smankulova. But better reporting and clinical analysing of such "near-miss" cases can significantly improve the quality of health care throughout the region.
A new sub-regional initiative by UNFPA and the South-Eastern Europe Health Network aims to improve maternal and newborn health by implementing and evaluating reviews of life-threatening pregnancy complications and acting on their recommendations — starting in South-Eastern Europe and then expanding throughout the rest of the region.
"Countries in Eastern Europe and Central Asia have made significant progress in reducing maternal mortality rates since the International Conference on Population and Development in 1994, but there are still inequities between and within countries," says Tamar Khomasuridze, UNFPA's Regional Sexual and Reproductive Health Adviser.
"This new programme enables countries to review and assess the causes of delivery complications and to translate the recommendations into evidence-based national guidelines," she adds.
The initiative includes the development and implementation of national obstetric surveillance and response systems that will enable countries in the region to share knowledge on how to end preventable maternal deaths, one of the three transformative results UNFPA is working to achieve by 2030.
Representatives from around the region came together in October 2019 in Bucharest, Romania, for a workshop on the initiative.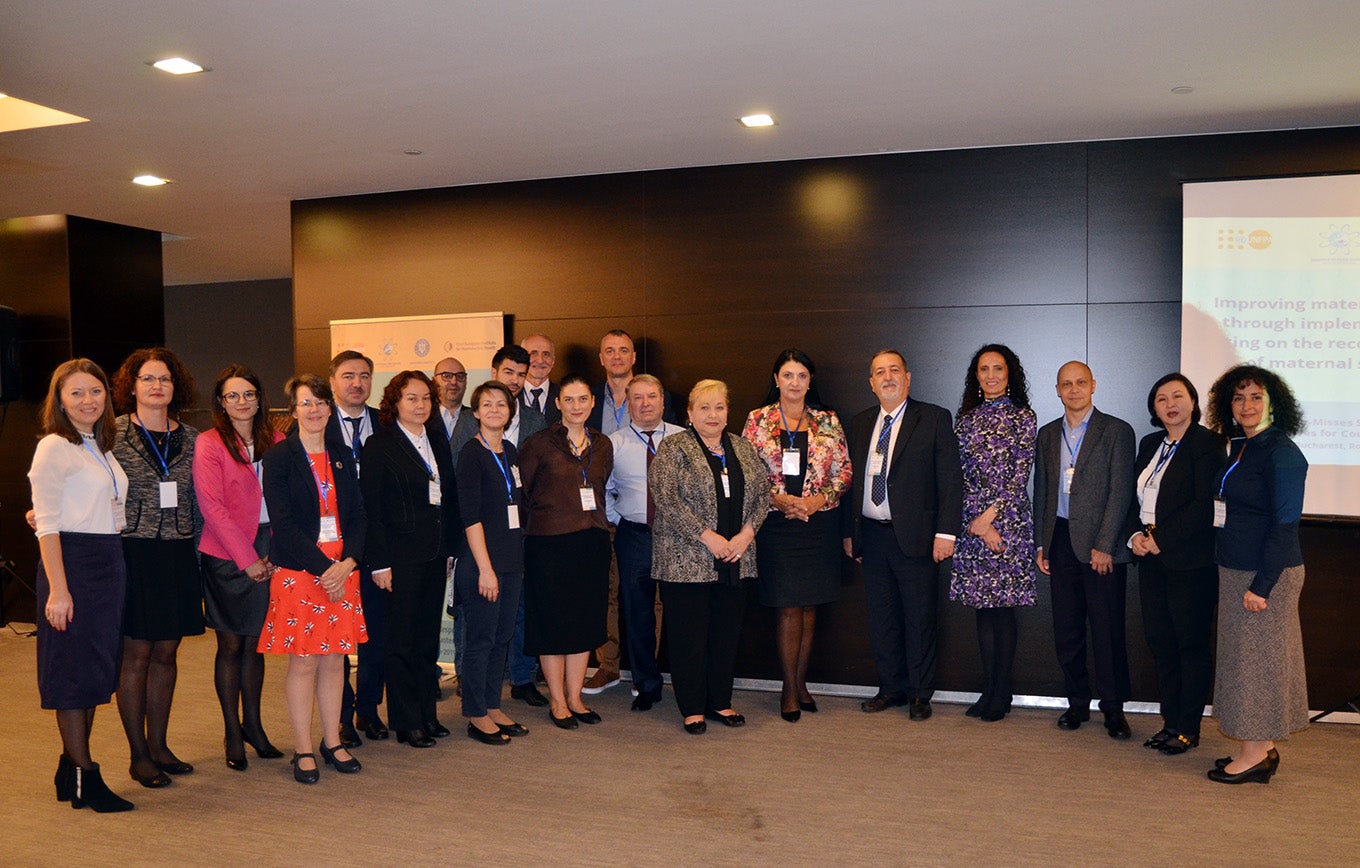 Participants in the Bucharest workshop. Photo: UNFPA
"This initiative is in line with Romania's commitment to the 2030 Agenda and the Sustainable Development Goals framework," says Dr. Cristian Grasu, State Secretary of the Ministry of Health of host country Romania. "It embeds the principles and practices of triangular cooperation, involving UNFPA as a development partner, donor and facilitator of the inter-country cooperation; UK international experts; the governments of the participating countries and territories; and the East European Institute for Reproductive Health in Romania as a regional partner and provider of technical assistance."
The surveillance and response systems developed in participating countries will be linked with quality of care mechanisms and international principles for developing and implementing the guidelines in the areas of sexual and reproductive health, including maternal care. The system will promote cooperation and accelerate the exchange of data and experiences between countries.
"In countries with low maternal death rates, including many within the region, the reviews have been expanded and include information on women who survived severe complications of pregnancy," says Dr. Mihai Horga, a Senior Adviser at the East European Institute for Reproductive Health. "The introduction of national-level systems that enable the standardized identification and assessment of cases of severe obstetric events will provide essential information on why these cases happen and how they can be averted, complementing existing surveillance and review processes in individual countries and offering a greater depth of evidence to identify key areas for improvement."
Participants in the Bucharest workshop expressed their commitment to support the initiative. "I will recommend to key health-policy decision makers in my country to introduce this innovative approach and will also share it among the technical staff of UNFPA Country Offices in Central Asia to consider the scaling-up of this model of near-miss reporting systems," says Smankulova of UNFPA Kyrgyzstan, emphasizing the broad applicability of the programme.
"Diseases and epidemics do not stop at national borders, and responsibility for health-care improvement does not end there either," says Dr. Mira Jovanovski-Dasic, the Director of Secretariat for the South-Eastern Europe Health Network. "For this reason, a regional approach to strengthening health systems will give much better results."