DUSHANBE, Tajikistan — In the remote villages of Tajikistan's Temurmalik region, steady work isn't always easy to come by. Neither are family planning services.
"Our family was struggling. I wanted to stop childbearing, but I didn't know where to get contraception or how to use it," recalls Gulbahor Aslanova, 37. She already had seven children with her husband, who lacked permanent employment, leaving them living in difficult conditions in their small village of Saidmumin Rahimov.
"I wanted to visit the regional health centre to get a [contraceptive] consultation, but since it's around 40 kilometres away and I didn't have the money for transportation, I couldn't go there," Aslanova says.
Many rural women of reproductive age in Tajikistan likewise have limited information about and access to different contraceptive methods. UNFPA is working to change that, with the support of the Embassy of Japan, by training midwives to provide essential family planning services where they are most needed.
"UNFPA made it possible for women in our village to access family-planning services such as intrauterine device (IUD) insertion without having to visit a regional or city health centre," says Gulchehra Hamaeva, a midwife with 28 years of experience. She is one of dozens of midwives who have been trained and certified by UNFPA to safely insert IUDs, a popular method of family planning. As part of the training, she was also provided with IUD kits to use at the village Health House where she works with patients like Aslanova.
"Now I do not need to worry about money for transportation or about getting the approval of my husband or his relatives to go to the regional health centre," says Aslanova. "I can get all necessary family planning consultation and services in the village where I live. I'm very glad that I have such an experienced and kind midwife like Gulchehra Hamaeva."
Increasing the use of modern contraceptive methods and broadening the choices available to women has been shown to be essential to reducing maternal and infant mortality and morbidity. Well-planned and well-executed family planning strategies allow couples to space out births as they desire and women to enjoy optimal maternal health, while also reducing the number of deaths from unsafe abortion.
Recognizing the importance of family planning in ensuring public health, UNFPA and the Embassy of Japan in the Republic of Tajikistan signed an agreement in 2017 to support a Joint Project on Strengthening National Family Planning Services for 2017–2020. The project was designed to cover a large gap in procurement of contraceptive methods and further strengthen national family planning services in Tajikistan.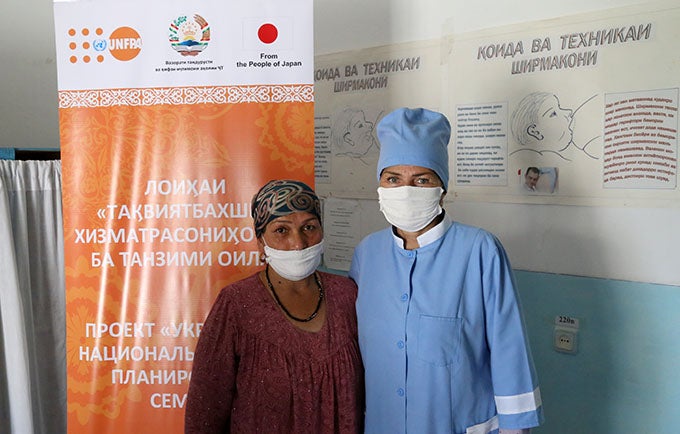 The project included training of midwives from 100 Health Houses in remote regions across the country, who were certified in an IUD-services skill set. The IUD is one of the most popular methods of family planning among women of reproductive age in Tajikistan. It is the choice of almost 60 per cent of women who currently use family planning, and demand for this method is particularly high in remote areas of the country.
"Our district is in a mountainous area, and many women struggle to get to the district health centre, whether due to a lack of resources or opportunities, or to the disapproval of their husband, mother-in-law or other family members," says Malika Rahmonkulova, head of the Reproductive Health Centre of Panjakent District. She says the region has seen great progress in family planning following the UNFPA training of midwives.
"Taking into consideration the access barriers that our patients faced, it was a unique decision to provide them with family planning services in their own local health centres, using well-equipped and trained midwives," Rahmonkulova says.
Zuhro Usmonova, age 58, was one of the midwives from Panjakent who completed the training on provision of IUD services.
"I learned not only the skills for inserting an IUD, but also how to build a relationship with my patients, how to understand their problems and worries and explain the importance of family planning to them," says Usmonova. Since she completed the training in 2017, approximately 480 women have received family planning services at the Sugdiyon Health Centre where she works.
"I didn't have the opportunity or resources to reach the district health centre," says Nasiba, a 34-year-old mother of four living in Panjakent. "Today, thanks to Zuhro Usmonova, these services have become very accessible and I can get them where I live, without spending money on traveling."
Midwives like Usmonova who participated in the training also received essential equipment and supplies for carrying out IUD insertion, including disposable napkins and antiseptics.
"Before the training, midwives did not have the ability to insert and remove intrauterine devices; only a gynaecologist was allowed to do so. That's why we couldn't cover all of the patients," says Usmonova. "Now, these services are more accessible, even in the most remote mountain areas of our region."