GAZIANTEP, Turkey – Midwife Shatha Al Mostafa started her career at the most difficult time possible – amid the escalating violence, insecurity and human rights abuses in her home country, Syria.
Since graduating from midwifery school two years ago, she has practiced in hospitals and health centres under bombardment, and seen health professionals flee the country one by one.
"There has been an exodus of qualified midwives and reproductive health professionals," Ms. Al Mostafa said. "Because of the chaos, people who are not licensed midwives practice without supervision and mistakes with serious consequences can be made."
Circumstances are already grim for those needing health care. An estimated 360,000 pregnant women, and millions of women and girls of childbearing age, are affected by the conflict, according to Nadine Cornier, UNFPA's humanitarian adviser on reproductive health.
Empowering midwives to save lives
These women and girls require a range of health-care services, from reproductive health information, family planning counselling and antenatal care to safe childbirth services and postpartum care.
Much of this care can be provided by midwives.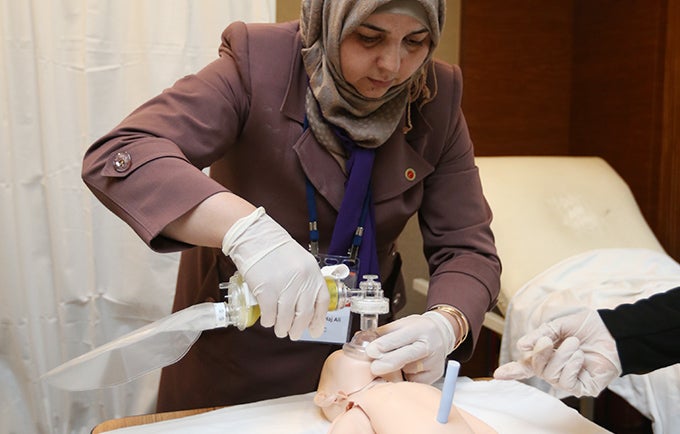 Midwife Halema Haj Ali practices newborn resuscitation at a training session in Gaziantep, Turkey. © UNFPA/Nadine Cornier
"Research shows us that qualified and trained midwives can deliver 87 per cent of required essential maternal health services," Ms. Cornier said.
This fact is especially important given the mass departure of health professionals from Syria.
UNFPA is working with health professionals like Ms. Al Mostafa to empower midwives to provide this life-saving care.
Ms. Mostafa was one of 23 midwives brought to Gaziantep, Turkey, for a week-long training in essential skills, such as newborn resuscitation and managing postpartum haemorrhage.
The training programme – run by UNFPA with funding from the European Commission's Directorate-General for European Civil Protection and Humanitarian Aid Operations (ECHO) – also trained midwives to become trainers themselves, enabling them to teach vital skills to health workers back home.
Ms. Al Mostafa is now able to teach others to sensitively explain medical services, provide referrals to health centres and specialists, recognize danger signs during and after pregnancy, and provide counselling on family planning.
"We also teach community health workers and families about the benefits of skin-to-skin contact with newborns and give breast-feeding support," Ms. Al Mostafa said.
Extreme and trying conditions
The training is part of a broader UNFPA efforts to provide cross-border humanitarian assistance to Syrian women and girls. Other interventions include providing health services and support to survivors of gender-based violence.
UNFPA has also developed a strategy to further strengthen the skills of midwives in northern Syria, taking into account input from midwives, doctors, health services managers, humanitarian NGOs and others.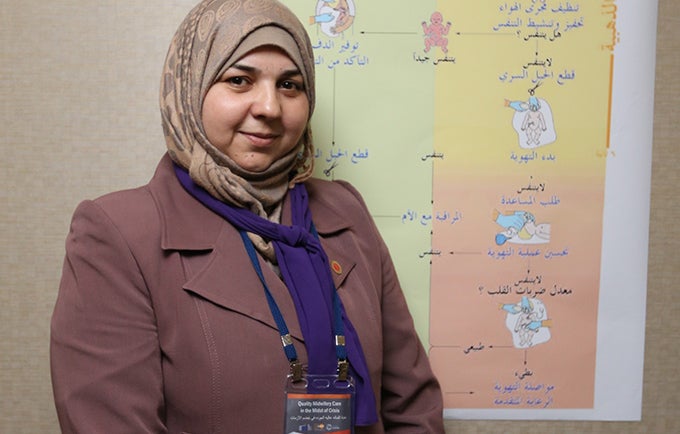 "We have limited resources," said Ms. Haj Ali. Still, she remains committed to her work and to the women she serves. © UNFPA/Nadine Cornier
"The strategy was developed to directly support the objectives of saving lives, alleviating suffering, and increasing access to humanitarian response for vulnerable people and those with specific needs," said Ms. Cornier.
Launched in early March, the strategy is set to run from 2017 to 2021.
Midwives say such efforts will go a long way towards helping them operate under extreme and trying circumstances.
"We have limited resources in terms of curriculums, books, models, safe training venues, and people with both training skills and midwifery competencies," said Halema Haj Ali, one of the Syrian midwives who travelled to Gaziantep for training.
Ms. Haj Ali started out as a midwife in 1996, delivering babies first in women's homes and later in hospitals and clinics.
"I have always loved my career and have practiced it during peace and war, under siege and shelling," she said. "None of these harsh circumstances have kept me from my work."