SHKODËR, Albania ­— Health-care professionals at regional maternity hospitals in Albania are taking a hard look at how they handle cases of severe complications in pregnancy and childbirth, drawing on input from multi-disciplinary teams of doctors, nurses and midwives. And doctors say adopting this kind of analysis of "near-miss" cases, part of a UNFPA-supported initiative to improve perinatal care, as a routine procedure in their hospitals is already making a difference for the mothers and newborns they serve.
"This initiative has emphasized the importance of working in a team, and put mothers and newborns at the focus of our work," says neonatologist Dr. Dhurata Kuci, the chief of neonatology services at the Shkodër Maternity Hospital in Albania. "It also evaluates mothers' satisfaction with our work. The overall impact is happier mothers and healthier babies."
The effort to improve the quality of care and standardize services for perinatal care based on evidence-based best practices is being carried out in selected regional maternity hospitals of Albania by UNFPA in close partnership with the Ministry of Health, the National Centre for Quality, Safety and Accreditation of Health Institutions (NCSQA), and other key stakeholders. The approach is based on the Beyond the Numbers (BtN) methodology for reviewing maternal deaths and complications.
The pilot use of multi-level peer-review teams has been acknowledged by hospital managers in Albania as a good model for focusing all hospital staff — including both clinical and management teams — on adopting best practices, boosting professionalism and improving quality of care at every level for mothers and newborns. There is also a growing awareness emerging in the piloted hospitals of the necessity for a stronger focus on patient needs, and of how the BtN teamwork initiatives can improve the quality of care. The self-assessment approach is in accordance with the long-term strategy of the Ministry of Health and the objectives of the NCSQA: achieving harmonization with European standards for health care.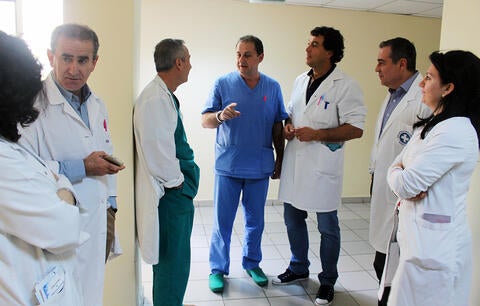 Dr. Saimir Selmanaj (second from left), the head of the Shkodër Maternity Hospital, confers with colleagues at the hospital.
"This initiative supported by UNFPA has helped us improve the quality of our service delivery through well-developed standards and protocols," says obstetrician/gynaecologist Dr. Saimir Selmanaj, the head of the Shkodër Maternity Hospital. "However, our work will only be sustainable if supported by good infrastructure and good equipment, so that the hard collective work of our team has the most successful impact on our happy, satisfied beneficiaries."
Through its work with a national team of experts, NCSQA has identified the need to develop a standardized way of reporting complications based on near-miss-cases analysis and to formalize the hospital self-assessments as part of their accreditation process. Other recommendations for continual improvement in quality of care at maternity hospitals in Albania include setting up an efficient referral system with a focus on maternal and newborn health; creating national uniformity in patient records; and introducing effective perinatal care into university curricula.
These measures in Albania are part of broader UNFPA-supported efforts across Eastern Europe and Central Asia to standardize care at maternity hospitals based on clinical guidelines and local protocols, according to Dr. Tamar Khomasuridze, UNFPA Regional Sexual and Reproductive Health Adviser. "This success story in Albania is complemented by our regional efforts to expand the initiative by applying the outcomes of the facility-level reviews into evidences for national policies and guidelines," says Khomasuridze, who recently visited the Shkodër hospital as part of a field mission to Albania. "The institutionalization of newly developed training modules into national education programmes is another important component of the new phase we are entering to make our results sustainable and impactful."