BAKU, Azerbaijan — When Nanakhanum Azimova enrolled at a new school that opened in Baku last year, she was taking a leap of faith. Like many people with disabilities, her experience of school as a child was marred by social exclusion and stigma.
"I had some doubts about applying to this school at first," says Azimova, age 29. "But I told myself, don't be so fearful that you miss an opportunity. And it's turned out to be one of the best decisions I ever made."
The school she is attending is Azerbaijan's first-ever inclusive art school, offering free classes in subjects such as drawing, knitting and woodcarving for 17 students with and without disabilities. It was founded as part of a joint project by UNFPA, UNDP and the Ministry of Labour and Social Protection with the aim of changing perceptions and attitudes towards people with disabilities.
The estimated 600,000 people with disabilities in Azerbaijan face many barriers to leading independent and fulfilling lives. These include not only physical barriers, such as limited access to public spaces, transportation and recreation facilities, but also social prejudices that restrict their ability to participate in education and employment.
When Azimova applied to the high school she had wanted to attend in Baku, for example, the administration refused to accept her.
"They told my parents I had to go to a special school – a boarding school so far away we wouldn't be able to see each other for weeks at a time," recalls Azimova, whose physical mobility has been severely restricted since she was three years old as the result of a brain operation. "We knew at once that we couldn't stand that idea, and so for better or for worse, I ended up being home-schooled all those years."
Though Azimova has directly experienced the inequalities of opportunities for people with disabilities all of her life, now more than ever, she refuses to be excluded.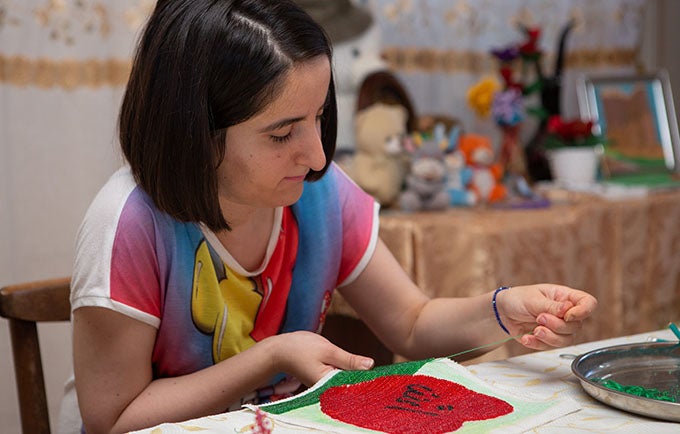 "Going to art school opened up a whole new world to me: not just drawing but also new friendships," she says. "Now I know what it means to be accepted, to be treated as an equal by my tutors and peers."
Elnara Aliyeva, one of the arts tutors at the school, says the greatest reward of her job is seeing how the classes build up the students' confidence in so many different areas as they develop a sense of belonging.
"Nanakhanum found it very hard to draw when she first came to the school because of her disabilities," says Aliyeva. "But hours of hard work and perseverance have paid off and she's now dexterous enough to do what she's always wanted – to draw!"
The establishment of the art school is part of UNFPA's longstanding commitment to helping people with disabilities overcome barriers in Azerbaijan. It was set up under the umbrella of the joint project "Addressing the Rights and Well-Being of Women with Disabilities and Veterans of the Nagorno-Karabakh Conflict," which was launched at the initiative of the First Vice President of Azerbaijan, Mehriban Aliyeva. It is funded by the Ministry of Labour and Social Protection and implemented by UNFPA and UNDP.
With the onset of the COVID-19 pandemic this year, the art school has switched to online education. Azimova and her fellow students were provided with all necessary equipment and tools to facilitate their learning and are now regularly attending online classes.
To keep everyone's spirits up during these challenging times, the project is supporting the school to organize an exhibition of artworks and handicrafts to take place at the end of this year. For most of the students, it will be the first time they've had the public look at their art – and a first opportunity to gain some income for their work.
"This year has been stressful for so many people but I've had art school to keep me going the whole way through the pandemic," says Azimova. "And I've got something to look forward to when 2020 finally comes to an end too – my first display in an art exhibition!"
A version of this story was originally published on the website of UNFPA Azerbaijan.