CAHUL, Moldova — On a typical day, teacher Ludmila Culidobri may lead her ninth-grade class in a debate on whether images in the media create unhealthy standards of beauty, or a discussion of how their own adolescent bodies are changing.
"When my students leave school, they may forget the math or chemistry formulas they memorized, but they won't forget what they learned during my course," says Culidobri, a biology and health education teacher at Ion Creangă High School in the city of Cahul, in southern Moldova.
For the second year in a row, ninth-, tenth- and eleventh-grade students at Ion Creangă are attending weekly classes in which they learn how to protect their health, including their reproductive health. The courses cover the changes that happen in students' bodies and minds during puberty; the importance of sports and good nutrition; how to prevent violence and abuse; and how to build healthy relationships with others.
"This is a subject where you gain a lot of knowledge and useful life skills," says Culidobri.
But despite its importance, few students in the Republic of Moldova have this subject as part of their curriculum. Health education is an optional course in the country's schools, taught only to pupils who have selected it, rather than systemically. Last year, only 7 per cent of young people in Moldova chose to study health education.
Additional efforts to promote the subject among students and parents, and to improve the quality of health education in schools, are now being made with UNFPA support. Starting with the current school year, health education lessons in 22 schools across five districts of the country are being taught using an improved curriculum, by teachers such as Ludmila Culidobri who have taken an advanced training course that includes interactive teaching techniques they can employ in their classrooms.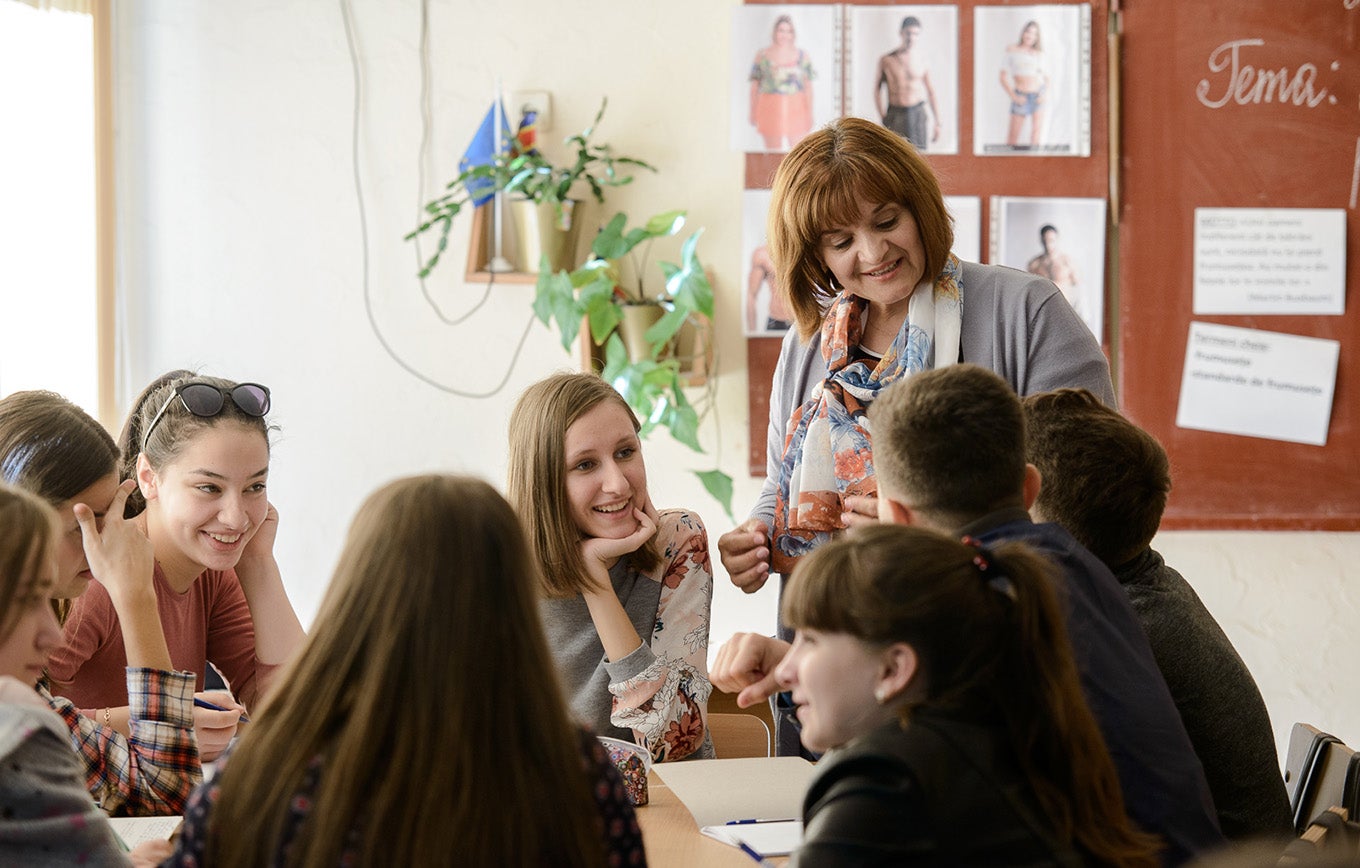 Ludmila Culidobri leads a discussion in her ninth-grade health education class. Photo: UNFPA Moldova
These activities are all part of the project "Promoting youth health education," which is being carried out by the Ministry of Education, Culture and Research with the support of UNFPA Moldova and the Embassy of the Netherlands in order to help Moldova's educational system better respond to young people's development needs.
For teacher Culidobri, these topics are not new. She taught a health education course in the early 2000s in one of the village schools where she worked until recently. She says her current students still face the same issues as they move into adolescence, and still have a hard time talking about these subjects with their parents.
At the beginning of this school year, Culidobri had her students fill out an anonymous questionnaire so she could better understand their expectations from the course. The results showed that their main concerns were understanding relationships, sexuality and the menstrual cycle.
"I find that some mothers do not even talk to their daughters about the menstrual cycle, which in some cases starts when the girls are 11 years old, or even younger, and takes them by surprise," Culidobri says. She believes health education should be introduced in as many schools as possible in Moldova to help teenagers cope more easily with the changes and dangers of adolescence.
"When I was a tenth-grade master teacher, one of the boys in my class was dating a girl from the sixth grade," Culidobri recalls. "After a parent-teacher meeting, the boy's mother approached me and asked, 'Please talk to them about all the potential risks…. I'm afraid that something might happen there.' Of course I talked to the boy, but also to the entire class."
Culidobri is happy that her school has been selected to take part in the UNFPA-supported initiative, saying that it will help girls and boys from Cahul enjoy a safer start to their adult lives.