SARAJEVO, Bosnia and Herzegovina – As in many parts of the world, the eight women's shelters across the country saw rising numbers of survivors of violence seeking refuge during the pandemic. To support the shelters and mark International Human Solidarity Day on 20 December, UNFPA and the British Embassy organized #Cook4Good, inviting 10 members of the diplomatic community – including ambassadors from the United Kingdom, Sweden and Norway and the USAID director – to lead solidarity efforts. 
UNFPA Representative for Bosnia and Herzegovina John Kennedy Mosoti, a #Cook4Good volunteer, praised community efforts in protecting survivors and helping change norms and attitudes that perpetuate gender-based violence. Their progress over the years has led the international community and civil society to make investments in "'violence prevention architecture' – a set of laws, policies, mechanisms, practices and actors that all work in a concerted effort to curb, reduce and end violence against women," he said.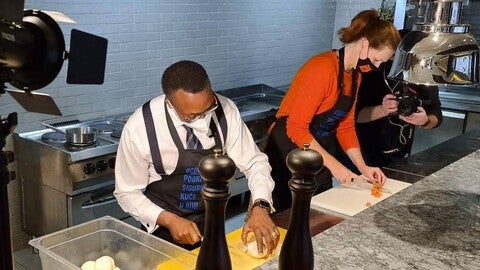 COVID-19 has proven a challenge, as women's shelters have recorded an almost 50 percent increase in reported cases since the pandemic began, according to Mr. Mosoti. UNFPA has provided assistance packages to beneficiaries in shelters, which collectively house approximately 200 women and children, and developed a bot on messaging app Viber to assist gender-based violence survivors in accessing information on such topics as legal aid. But #Cook4Good was the first philanthropic event organized to aid the shelters, one the agency hopes to make an annual event. The diplomatic representatives prepared traditional dishes of šarena dolma (stuffed vegetables) and sitni ćevap (braised meat with vegetables), which UNFPA delivered to the shelters in Sarajevo, Banja Luka, Bihac, Mostar, Bijeljina, Tuzla, Zenica and Modrica. The initiative also appealed to the public for donations – for everything from clothes and linens to school supplies and toys – raising awareness of the needs of shelters, which, because they are not recognized as institutions providing a public service, cannot access government funding. According to a 2019 report, 48 percent of women have experienced some form of abuse since age 15. 
Women in the shelters were moved not only by the meals but by the community's outpouring of goodwill. "The support I have received from the women's shelter is extremely important to me," said one survivor, whose family thought her marital problems were her fault. "Now I see that other people support us as well and think that we are not the ones to blame."
"No one should suffer alone or in silence," said Ambassador Kathleen Kavalec, Head of the Organization for Security and Cooperation in Europe (OSCE) Mission in Bosnia and Herzegovina and another volunteer. "They need to know that people are with them, give them the courage to go on."