SKOPJE, North Macedonia — When the time came for Marija Matovska to give birth, she and her husband had more than the usual worries of first-time parents on their minds. As they rushed to the hospital on 18 April, the streets of Skopje were empty. North Macedonia had been under lockdown for more than a month as the number of cases of COVID-19 continued to rise in this small Balkan country.
"I had a healthy pregnancy, but I constantly felt the fear of the virus: How would I deliver? Would I have to wear a mask and gloves? Would that influence the delivery?" Matovska, age 31, recalls. "One of our biggest fears was whether the entire hospital would be disinfected and if they would have the necessary protective equipment."
A shortage of healthcare personnel, insufficient quantities of personal protective equipment and case-investigation supplies, and a limited number of medical staff trained in how to deal with infectious diseases were among the immediate needs and gaps identified in the early days of the pandemic by the United Nations North Macedonia Situation Report.
But response to those needs quickly began to materialize, with the support and advocacy of UNFPA.
North Macedonia was among the first countries in the region to declare a state of emergency in response to the coronavirus pandemic. It also introduced strong measures such as a curfew (lifted on 27 May) to keep people off the streets. These measures have helped the country's health sector to cope with the rising caseload, which peaked at the end of April.
Enabling systematic screening at maternity hospitals
"A huge challenge at the beginning of the pandemic was triaging pregnant women who were suspected of having COVID-19, as well as ensuring the safety of health workers with personal protective equipment," says Dr. Ana Daneva-Markova, an obstetrician-gynaecologist at the University Clinic for Gynaecology and Obstetrics, and president of the National Committee for Safe Motherhood.
"Setting up triage stations outside the maternity hospitals was necessary to enable systematic screening of symptoms and risk factors," adds Dr. Daneva-Markova, noting that overcoming these two challenges was essential in reducing the risk of infection for other patients and for health workers. Of the total number of COVID-19 cases in North Macedonia, 14.7% are among health workers, according to the Institute of Public Health.
The latest figures show that the number of physicians per 100,000 people in North Macedonia was 17% lower than the EU average as of 2014. In addition, there are only 162 gynaecologists in the country's primary health-care system, according to data from the Health Insurance Fund. In order to respond to demand while also reducing the risk of coronavirus transmission, many gynaecologists began checking in with their patients by telephone and also introduced online counselling.
"I talked on the phone with my gynaecologist in order to avoid visiting his office when it was not necessary," says Matovska.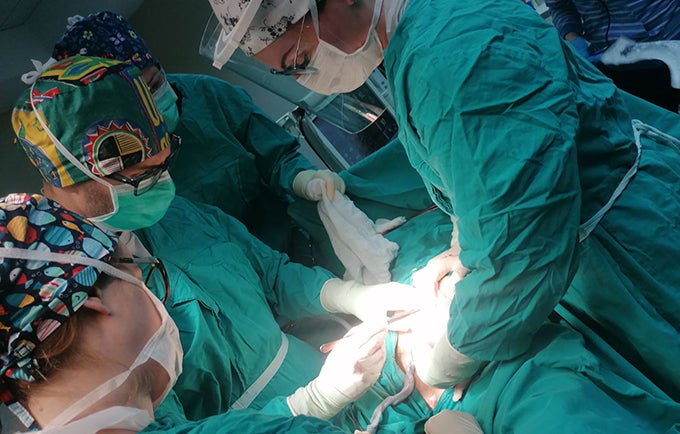 UNFPA support for maternal health amid COVID-19
As a result of UNFPA advocacy, the Ministry of Health appointed a dedicated Working Group on Sexual and Reproductive Health to develop recommendations for the prevention and management of COVID-19 for pregnant women. The group had previously developed recommendations for all levels of maternal care with the support of UNFPA.
"UNFPA was one of the first UN agencies that, together with the support of the Ministry of Health and in line with WHO recommendations, proactively initiated a campaign aimed at informing pregnant women about COVID-19," says Afrodita Shalja, Head of Office for UNFPA North Macedonia.
UNFPA has continued to be agile in its support for the national response. It donated 2,800 hygiene items to the three key public-health institutions dedicated to providing services to the most vulnerable such as pregnant women and older persons. UNFPA also initiated targeted activities with obstetricians and gynaecologists aimed at improving quality of care for women in maternities with regard to protecting them from COVID-19. This included working with health authorities and other international organizations to carry out a series of video trainings and online workshops for health workers.
"Our pregnant women are properly informed by the health authorities, with cases [of COVID-19] reported and identified in a timely manner by health workers," says Dr. Daneva-Markova. "In terms of using personal protective equipment, video trainings have been implemented for all health workers under the supervision of the infectious diseases commission, based on previously adopted recommendations."
These procedures were recently published as a practical guide, titled Interim recommendations for treatment of pregnant women during COVID-19 pandemic and prepared with the support of UNFPA, in cooperation with the Ministry of Health and HERA (the Health Education and Research Association), and as agreed upon by the National Committee for Safe Motherhood.
Commitment to care
Recently, COVID-19 positive asymptomatic cases of pregnant women in their first or second trimester were reported by the University Clinic in Skopje, with no unfavourable outcomes to date in terms of their pregnancies. Furthermore, one pregnant woman infected with COVID-19 delivered a baby who tested negative for the disease.
"Her treatment did not deviate from that given to any other healthy pregnant woman, except for the fact that from admission to discharge, she was examined and treated in isolated rooms," says Dr. Daneva-Markova, emphasizing the importance of vigilant monitoring and multidisciplinary care in such cases.
"Our colleagues have clearly demonstrated their commitment and solidarity in these difficult days, and this has been recognized by many of our patients and fellow citizens," she adds.
Matovska, who delivered a healthy baby boy named Angel, is among those who are grateful.
"Angel's first cry was special, because he was in the hands of dedicated and professional health workers in the midst of the COVID-19 pandemic and the night before Easter," the new mother says. "I truly believe in our health workers. Their dedication saves lives."
—Irena Spirkovska