MUNICH, Germany — What if young people on the autism spectrum could access individually tailored sexuality-education information anytime they go online? That's just one of the innovative approaches to ending unmet need for family planning being developed by UNFPA teams at a global Innovation Bootcamp held in Munich this week.
The World Health Organization estimates that one in every 160 children has autism spectrum disorder (ASD). Adolescents with ASD experience the same physical developments related to puberty as everyone else — including emotional and hormonal changes and the emergence of sex characteristics and sex drive — but do not always have the same understanding of how these changes can affect them socially. As a result, young people with ASD may have difficulties communicating around healthy sexual relations.
The "Digital Storytellers" project initiated by UNFPA North Macedonia is taking a unique approach to addressing the learning needs of adolescents with ASD through the use of assistive technology solutions. The online application being developed will offer individually tailored and accessible comprehensive sexuality education in a highly visual manner. The app will use more than 650 professionally designed illustrations to increase understanding of issues such as contraception, sexual intercourse, pleasant and unpleasant touch, and changes to expect during puberty.
"The bootcamp offered us an opportunity to discuss our idea with various mentors and experts, which helped us refine the initial idea and better understand how to prototype it," says Jovanka Brajovic Grigorijevic, a member of the team that represented UNFPA North Macedonia at the Munich event. "We look forward to bringing on board various regional partners to help us realize the potential of our idea."
Assistive technologies like those employed by the Digital Storytellers project can help enhance communication, promote independence and increase social interaction for both adolescents and adults with ASD. Addressing their health needs can in turn reduce other barriers to their full social, economic and political participation in society. However, developing these technologies at an affordable cost, and facilitating access for those who need them, remains a major challenge.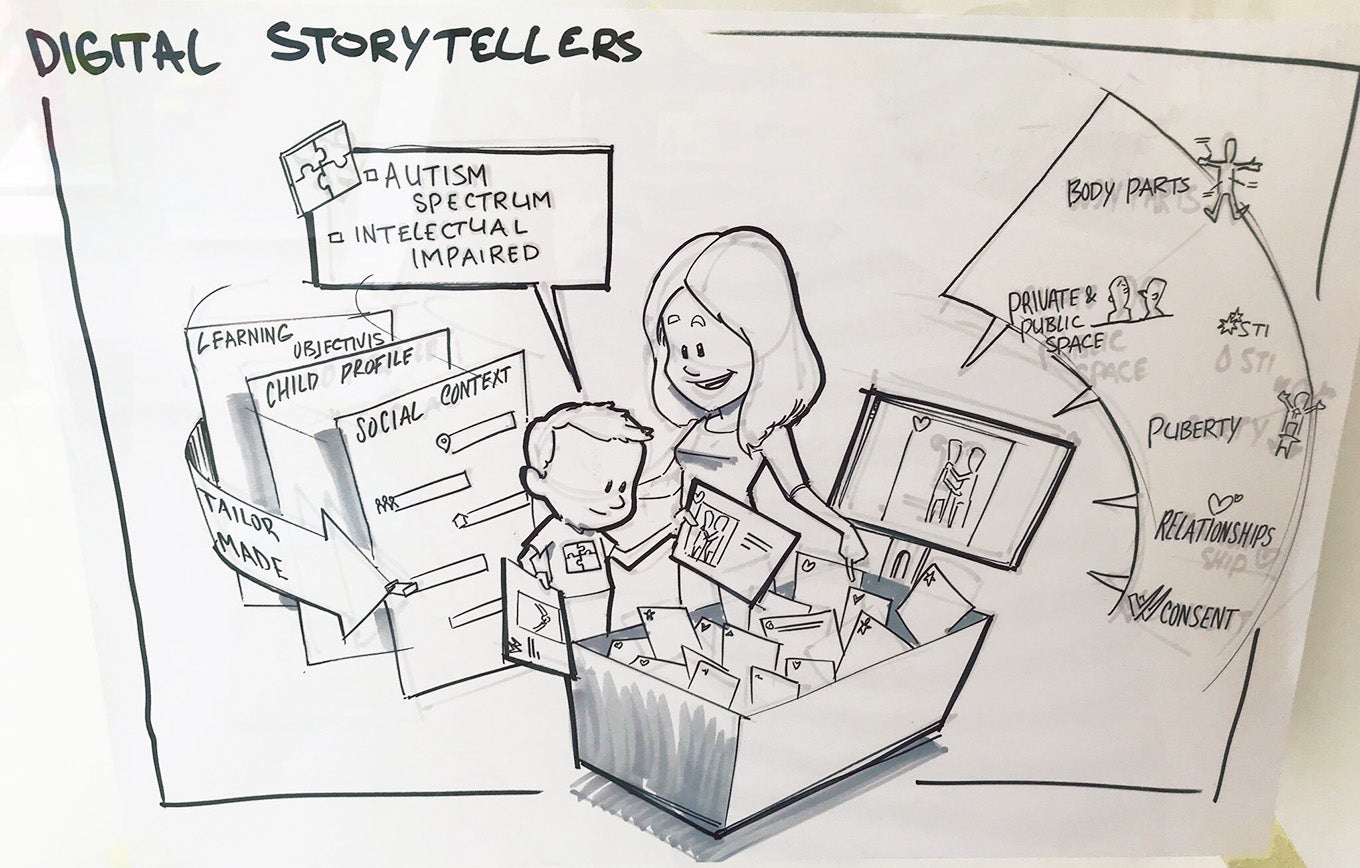 A concept sketch for the UNFPA North Macedonia innovation team's 'Digital Storytellers' project. Photo: UNPFA EECARO
UNPFA North Macedonia was one of eight teams selected from 74 groups of innovators who submitted proposals on new ways to address the challenge to end unmet need for family planning. The call for proposals was put out by the Innovation Fund at UNFPA, in collaboration with the World Food Programme's Innovation Accelerator. The eight selected teams travelled from as far away as China, Sierra Leone, Ghana and Colombia to attend the high-intensity Innovation Bootcamp held in Munich between 22 and 26 July, where they were able to work on designing, prototyping and testing their bold solutions to help accelerate universal access to sexual and reproductive health and rights.
These solutions aim to expand access to family planning services, which are essential to ensuring a good quality of life, but not always equally available to people living in rural areas, people in countries with inadequate or insufficient health services, and people with disabilities, among other groups. The proposals by UNFPA innovation teams incorporate both high-tech and low-tech solutions that put rights and choices at the centre of family-planning decision-making and service delivery to ensure that no one is left behind.
The team from UNFPA Sierra Leone, for example, is tackling inefficiencies in inventory tracking and allocation by service providers and medical stores through an integrated Logistics Management and Information Systems (LMIS) platform, while the UNFPA Philippines team is using online data scraping and sentiment analysis to reveal common perceptions and challenge myths around family planning. UNPFA Uganda is developing "DrugDash," a web- and mobile-based platform that will provide real-time information on stock availability of essential reproductive health commodities to ensure that decision-makers are aware of what products need to be restocked and can make the necessary supply transfers. And in Mongolia, the "Original Nomads" project is creating a virtual family-planning coach for nomadic Gen Z: a machine-learning-based online platform that will deliver spoken advice and interactive counselling in their native language.
During the Innovation Bootcamp, the participating teams took a deep-dive into field-level challenges, conceiving solutions and fine-tuning project plans with the support of facilitators from the World Food Programme Innovation Hub who are experienced in design thinking, technology, the lean start-up approach, marketing and communications, and of UNFPA mentors with expertise in sexual and reproductive health, management and leadership, supply-chain logistics and business development.
By designing, testing and scaling up these and other kinds of innovative approaches, we can meet unmet need for family planning – and the rest of the 17 Global Goals.
Join the conversation on Twitter at @UNFPAInnovation and learn more about UNFPA's innovation mission.