You are here
Regional Director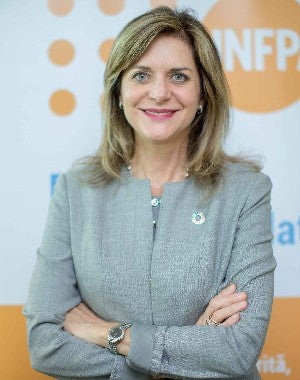 Alanna Armitage
Alanna Armitage is UNFPA's Regional Director for Eastern Europe and Central Asia. She has championed women's health and rights over the past three decades including as UNFPA Representative in several countries.
As Director of UNFPA's Geneva Office, Alanna led the Fund's Geneva-based multilateral interactions on global health, human rights and humanitarian response. Ms. Armitage connects social influencers as part of the "Let's Talk!" movement, opening up space to speak about harmful taboos around women's health and bodies, while also acting as mentor of young women leaders.
Alanna holds degrees in Cultural Anthropology and International Development Studies and a postgraduate degree in Health Systems Management. She is completing a PhD at the Geneva Graduate Institute of International and Development Studies, on the impact of population decline on gender equality in Eastern Europe.
Ms. Armitage was featured in Apolitical's 100 Most Influential People in Gender Policy 2021, honouring people working on gender through policymaking, public service, research, philanthropy, advocacy, and activism.