Ensuring rights and choices for all
26 August 2019
Helping midwives save mothers' lives in Uzbekistan
KANLIKUL, Uzbekistan — Darigul Kholmurodova and her family were having breakfast one morning when her pregnant daughter-in-law started to feel unwell. "She was just lying there and crying," Darigul recalls. "Immediately after I finished milking my cow, I took her to the hospital." At the maternity hospital, they found the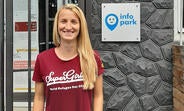 16 August 2019
Women take the lead in helping refugees through crisis
ISTANBUL, Turkey — When a humanitarian crisis erupts, women are often the first to respond, and the last to leave. They serve some of the world's most vulnerable populations and work on the front lines of conflict, putting their own lives in danger. On World Humanitarian Day 2019, UNFPA honours the work of women assisting in
26 July 2019
Accelerating innovation to end unmet need for family planning
MUNICH, Germany — What if young people on the autism spectrum could access individually tailored sexuality-education information anytime they go online? That's just one of the innovative approaches to ending unmet need for family planning being developed by UNFPA teams at a global Innovation Bootcamp held in Munich this week.

UNFPA held a global consultation in June 2019 in Antalya, Turkey, to accelerate efforts...

Ten key trends related to implementing the ICPD Programme of Action as its 25th...