UNFPA: Delivering a world where every pregnancy is wanted,
every childbirth is safe and every young person's potential fulfilled.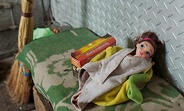 22 November 2017
A story of gender-based violence
UNITED NATIONS, New York – "That's what's left of my teeth after my husband beat me," Ameera* said at a women's shelter in south-western Yemen. She held out three white shards, which she keeps as evidence for her divorce proceedings. "He hit me so hard he broke my teeth and nose," she told UNFPA. Violence against women and
20 November 2017
Sexuality education without fear or shame for young people in Albania
BALLSH, Albania – It's not always easy talking to young people about sexual and reproductive health in the classroom. "Whenever a question about our bodies was raised in biology class, there was laughter and whispering; some students turned red and others giggled," says Marjo Rabiaj, 17, of Ballsh, a small town in southern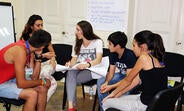 17 October 2017
Breaking taboos around reproductive health for rural youth in Georgia
TBILISI, Georgia — Like many other girls from rural villages in Georgia, Elene* didn't learn much about her reproductive health as an adolescent. The only topic her mother discussed with her was menstruation. Before she married at age 16, Elene had never visited a gynaecologist, and her husband was the first person to tell her
A toolkit to help public-health officials and health workers in our region address the...
Guidance on integrating gender equality in the nationalization and localization of the...