UNFPA: Delivering a world where every pregnancy is wanted,
every childbirth is safe and every young person's potential fulfilled.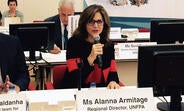 3 August 2016
Peer educators in Moldova help fill the gaps in sexuality education
CHISINAU, Moldova – Cristi, 16, is passionate about skateboarding, computer programming, and poetry. Though he just graduated from high school, he never received any sexuality education during his years in the classroom – Moldova doesn't have any as part of its official curriculum.
UNFPA in the Kyrgyz Repbulic
Ending violence against women & girls
Gender-biased sex selection in Georgia
SDGs Explained: Good Health and Well-being
GBV in Kazakhstan (Russian)