ISTANBUL – Young people's well-being is at risk if they are not able to enjoy and freely exercise their sexual and reproductive health and rights. That's the message that came through loud and clear at International Youth Day celebrations in Eastern Europe and Central Asia.
'Young people are the present and future of the country. We need affordable, youth-friendly services, especially in rural areas, to reach the most vulnerable,' Nunc Mangasaryan, UN Resident Coordinator ad interim in Moldova, said in a statement marking the 12 August event. 'Young people have a crucial role in this process and I urge you to promote healthy lifestyles every day.'
Young people are at the greatest risk of developing a range of mental health conditions during their transition from childhood to adulthood, due in large part to the onset of many physical, psychological, and emotional changes during this dynamic period. UNFPA's Adolescent and Youth Strategy aims to empower young people and strengthen their resilience by promoting comprehensive sexuality education, making available a full range of physical and mental health services, and bolstering youth participation in the future of their communities and countries.
Promoting healthy lifestyles
In Moldova, International Youth Day marked the conclusion of the one-month national campaign 'Investing in Youth Health'. Carried out by the government in partnership with youth organisations and UN agencies, including UNFPA, it sought to tackle key issues affecting the health of young people in Moldova, including early and unsafe sexual practices; increasing HIV rates; abuse of tobacco, alcohol, and drugs; and lack of communication with their parents.
Open-door events for young people at the country's 38 Youth-Friendly Health Centres, awareness-raising actions at summer camps conducted by Y-PEER youth educators, and discussions on creative ways to promote healthcare services all helped increase awareness about risky behaviours and promote healthy lifestyles among young people in Moldova, campaign organisers said.
Globally, International Youth Day 2014 was organised around the theme of 'Youth and Mental Health' under the slogan 'Mental Health Matters'. UNFPA advocates to ensure that adolescents and youth have the education and services they need to lead a healthy and happy life, free of mental illness, and to fulfil their potential.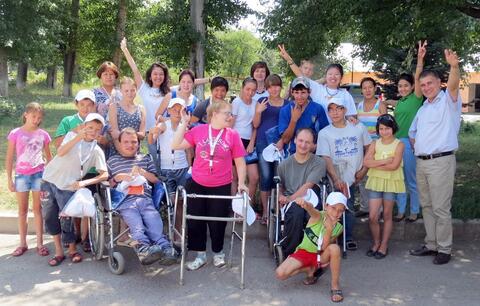 Youth educators from the Y-PEER network visit a rural orphanage near Almaty. Photo: UNFPA Kazakhstan
Facilitating youth employment
That potential was in evidence in Tajikistan, where young people organised their own informational sessions on mental health and sexual and reproductive health issues, art events, and flash-mobs to bring attention to the concerns of adolescents and youth. A job fair promoting 'Volunteerism as a career ladder' and featuring workshops on topics such as time management and writing an effective resume was also held as part of the country's IYD events.
Youth employment was likewise in focus in Armenia, where a youth expo and career fair was organised in a Yerevan city park, and in Albania, where workshops were held on the job-creating potential of creative industries, as well as on human rights and reproductive health, and on public spaces as a tool for social well-being. Young people in both countries also enjoyed musical performances and, in Albania, screenings of topical films.
A concert featuring youth bands entertained participants in Uzbekistan, where a volunteer peer-education network also set up information stalls in 11 districts of the capital city of Tashkent and other regions of the country to promote healthy lifestyles, youth activism against harmful traditions like early marriage, and the value of volunteerism.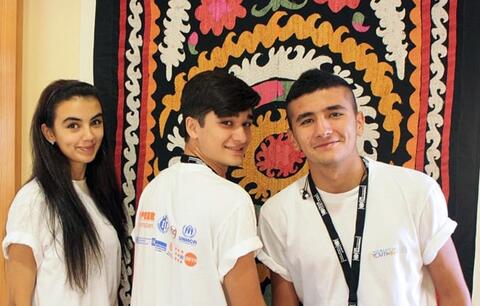 Celebrating International Youth Day 2014 in Tajikistan. Photo: UNFPA Tajikistan
Boosting youth participation
In Turkmenistan, UNFPA and the country's Parliament jointly organised a seminar on international models and best practices for national youth policies, with the aim of boosting youth participation in public life. Kyrgyzstan also looked to the future, with UNFPA and the Kyrgyz-Russian Slavik University announcing that a National Conference on Youth Mental Health will be held in mid-September.
In Kazakhstan, youth educators belonging to the Y-PEER network visited a rural orphanage near Almaty, where they organised a leadership training session. They also shot a video featuring local celebrities that aims to fight the stigmatising of people living with HIV.
Many countries used the occasion of International Youth Day to launch or further promote UNFPA's global '#Showyourselfie' campaign to urge world leaders to prioritise the needs and rights of young people in the post-2015 development agenda. In the Former Yugoslav Republic of Macedonia, one of the first people to sign on was Dime Spasov, the country's Minister for Labour and Social Policy.
'Young people form the backbone of every society,' Minister Spasov said in a statement marking International Youth Day. 'Better support and conditions for them mean a better world.'