KANLIKUL, Uzbekistan — Darigul Kholmurodova and her family were having breakfast one morning when her pregnant daughter-in-law started to feel unwell. "She was just lying there and crying," Darigul recalls. "Immediately after I finished milking my cow, I took her to the hospital."
At the maternity hospital, they found the doctor already busy in surgery. While they waited, Darigul's daughter-in-law, Munira Kholmurodova, began to go into labour. Assisted by a midwife, she gave birth to her third child, a son. Then, she started bleeding.
"I was so scared that I would not be able to hug my child," Munira says.
Post-partum haemorrhage accounts for one-fourth of maternal deaths worldwide, and is one of the leading causes of maternal morbidity and mortality in Uzbekistan, along with eclampsia/pre-eclampsia and genital sepsis. The country's maternal mortality rate has been declining steadily: from 33.1 deaths per 100,000 live births in 2000 to 19.0 in 2015, according to the State Committee on Statistics. But the vast majority of the deaths that still occur would have been preventable if quality maternal-health care and emergency-care services were provided in an efficient and timely manner.
Cases of bleeding after birth have not always been well-handled due to a lack of training and set procedures, says Gauvharay Abdullayeva, an obstetrician-gynaecologist in the maternity branch of Kanlikul District Health Department.
"The delivery room is full of medical staff, everybody screaming and running around in turmoil, no one listening to each other," she says. "Someone rushes into intensive care, and others are running for something else. As a result, a lot of time is lost."
Fortunately for Munira Kholmurodova, the midwife who admitted her to the hospital and attended her birth had received training in preventing and treating post-partum haemorrhage as part of a partnership between UNFPA, the Ministry of Health of the Republic of Uzbekistan, and the international humanitarian group LDS Charities. Initiated in 2015 and based on international standards, the trainings have reached 1,200 hospital-level midwives to date.
"Until recently, the function of midwives during childbirth and labour, and in the management of post-partum complications, was very limited," says Bekhruz Yusupov, National Programme Analyst on Reproductive Health at UNFPA Uzbekistan. "Thanks to the skills obtained during the trainings, midwives have been able to become active team players in labour management, developing local protocols that define essential measures and steps to prevent life-threatening complications."
As a result, Yusupov says, maternities covered by the trainings have seen a decrease in massive haemorrhage cases requiring robust medical interventions. Moreover, there have been no cases of haemorrhage-related maternal death in the hospitals and clinics where personnel received training.
"The knowledge gained during the training course helped me a lot," says Venera Jumabayeva, the Kanlikul District Health Department midwife who attended Munira Kholmurodova's birth.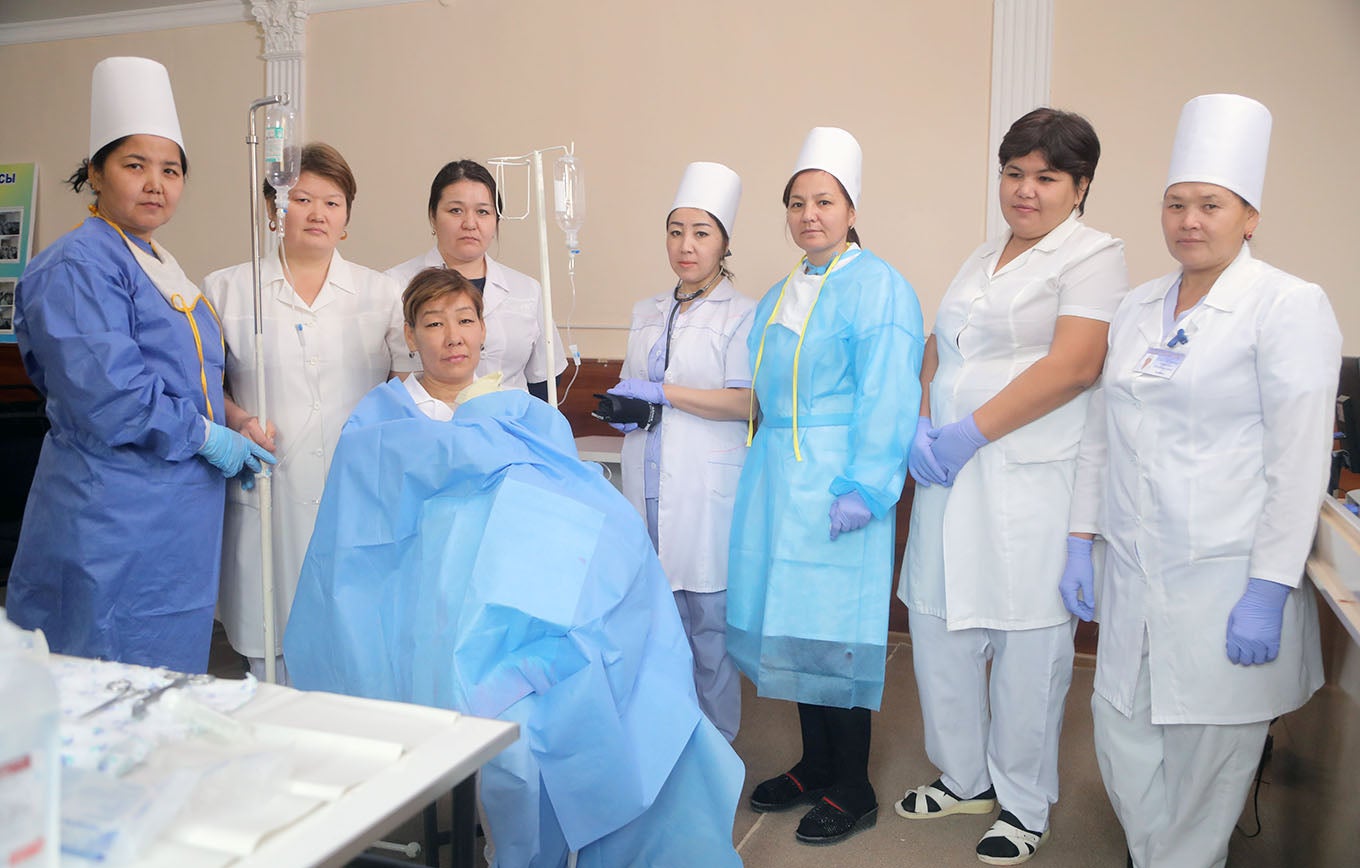 Venera Jumabayeva and other midwives participate in a training organized by UNFPA and the Ministry of Health of the Republic of Uzbekistan. Photo: UNFPA Uzbekistan
"When the patient started bleeding due to her uterus weakening after giving birth, Venera immediately carried out all the necessary emergency measures. She called in the team, performed the necessary bimanual compression of the uterus, and assessed whether there was a risk for bleeding relapse," says obstetrician-gynaecologist Abdullayeva. "The workshops gave her and the rest of our staff practical skills on teamwork, blood-loss estimation and its further prevention that are helping us provide quality service to women, prevent maternal deaths and ensure recovery."
UNFPA and the Ministry of Health plan to expand the training initiative to cover the entire existing midwifery workforce of more than 3,500 hospital-level midwives in Uzbekistan. It is expected that the impact of these skills-oriented trainings will contribute further to eliminating preventable maternal deaths. Recognition of the importance of high-quality midwifery services and investments in their capacity enhancement will help ensure the sustainability of this impact and the achievement of health-related Sustainable Development Goals (SDGs) targets in Uzbekistan.
After Jumabayeva helped stabilize Munira Kholmurodova's condition, the patient was examined by doctors who provided further care and treatment. As a result, she was able to recover and return home healthy with her baby.
"Thank God he was born. We named him Sulton," Kholmurodova says. "I am so happy that I can hug my child. I am grateful to everyone, particularly to Venera, for all the care she provided."