CHISINAU – Young leaders have a crucial role to play in shaping the future population and development agenda in Europe and Central Asia, participants said at the opening of a two-day conference hosted by the Government of Moldova and organised jointly by the European Parliamentary Forum on Population and Development (EPF) and UNFPA, the United Nations Population Fund.
"We need new leaders who will tell a new story of development, a story with people at the centre, human rights as the standard, and the erosion of inequality as its primary purpose," said Kate Gilmore, UNFPA Deputy Executive Director.
Sexual and reproductive health and reproductive rights are a "life-saving business," she said, and young leaders must be given a space at the table so that their innovation and ingenuity can help ushering on to centre stage "a global population of leadership innovators that we so desperately need if we are to meet the challenges that this fragile, finite planet faces."
Gilmore warned that free and unfettered exercise of rights in the context of sexual and reproductive health must not be undermined by narrow efforts to tackle challenges such as low fertility rates in the region: "Prosperity is a compound outcome of [a broad range of] sustainable policies."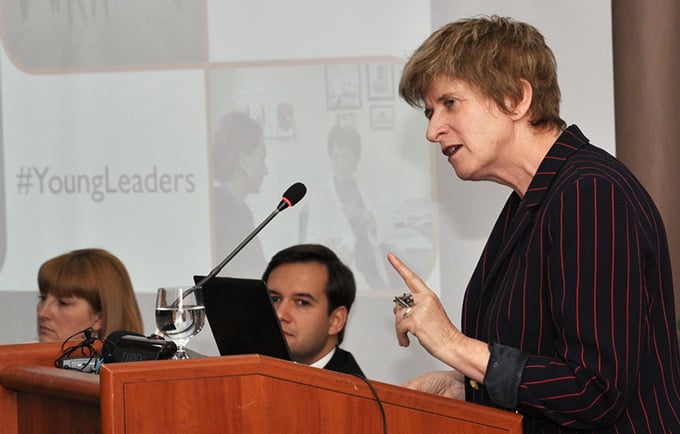 UNFPA Deputy Executive Director Kate Gilmore speaks at the young leaders conference. Photo credit: Lurie Foca
"When we speak about population and development we are speaking about people's lives, particularly young people's lives," said Neil Datta, EPF Secretary. "If, when, and how to start a family are life decisions taken by thousands of young people every day. Not involving young people at the very heart of policy-making in this area is not only profoundly anti-democratic, it also results in bad policies."
He went on to stress that the participation of young people in policy-making also contributes to democracy-building, which remains a challenge not only in Eastern Europe and Central Asia, but also in the Western part of the region.
More than 50 young parliamentarians, government officials, private-sector representatives, civil-society activists, and journalists from some 27 countries across Europe and Central Asia are attending the conference to discuss how a new generation of leaders can best make their contribution to addressing the pressing population and development challenges the region is facing.
Participants will discuss the progress made since the landmark 1994 International Conference on Population and Development (ICPD) and identify forward-looking and innovative solutions to close the gaps that still need to be addressed. They will focus on population dynamics such as migration, population ageing and low fertility; sexual and reproductive health and reproductive rights; and gender equality.